Do I Need Different Shoes for Different Types of Trails? (Choosing the Right One)
When setting off for a run on the trails, choosing the right pair of shoes can be as crucial as the route itself. Whether you're navigating a smoothly paved path or tackling rocky, uneven terrain, the shoes on your feet can greatly influence your performance and comfort.
With the variety of trails out there, it's no surprise that you might be wondering if one pair of shoes will suffice for every adventure, or if you'll need to tailor your footwear to each type of trail.
Your shoes serve as the foundation for your trail running experience, anchoring you to the ground and protecting your feet from the rigors of the trail. Think of them as your trusty travel companions—each different surface may call for a specific set of characteristics in a shoe to optimize your run.
Light trails might only need moderate cushioning and traction, while technical terrains demand a shoe that offers aggressive support and grip to keep you stable on your feet.
What's more, shoe elements like cushioning, traction, and heel-to-toe drop are not just buzzwords—they're critical factors that impact your running mechanics and overall outdoor outing. With years of trail experience informing this guidance, you can confidently make an informed choice on footwear that will enhance your run rather than detract from your enjoyment of the trail ahead.
Different Trail Types and Their Demands
Your running shoes can significantly impact your comfort and performance on the trail. With my expertise in trail running, let's explore the footwear suited to different trail types.
Light Trail Characteristics
Light trails are your more approachable paths, often flat, wide, and consisting of relatively even surfaces such as gravel or packed dirt. For these trails:
Terrain: Smooth with minimal obstacles
Running Shoe: Look for moderate tread patterns suited to a variety of surfaces.
Rugged Trail Features
Rugged trails begin to introduce more challenging elements like uneven terrain and softer surfaces that may include mud and loose dirt. For these trails:
Terrain: Uneven, may involve short climbing or descending sections
Running Shoe: Choose shoes with enhanced traction and durable construction that can handle rocks and roots.
Technical Trail Complexities
Technical trails take ruggedness to the extreme, with steep inclines, mountains, and various obstacles that demand careful foot placement.
Here's what to consider:
Terrain: Steep, rocky, often narrow with obstacles such as boulders and tree roots
Running Shoe: Maximum protection and support are crucial; look for aggressive lug patterns for grip and sturdy materials to protect your feet.
Choosing the Right Trail Shoes for Your Trail
When you're selecting trail shoes, it's essential to match the shoe features with the specifics of the trails you frequent. You'll need a combination of protection, stability, and comfort to tackle everything from rocky paths to muddy tracks.
Remember, regular road running shoes are designed for road running and not tackling technical trail elements.
Considering Foot Protection and Traction
An essential aspect of trail shoes is how well they protect your feet from uneven, rocky, or hazardous terrain. A rock plate in the midsole of your footwear can shield your feet from sharp objects and provide an additional layer of security.
Traction: Look for shoes with deep lugs (4-6 mm) if you're venturing onto soft, slippery, or uneven surfaces. The outsole should be made of durable rubber that grips effectively, especially if you encounter wet rocks or roots often.
Evaluating Durability and Stability
Choose trail runners designed with robust materials that withstand frequent use on rough trails. The outsole's material, often a stickier and harder rubber, plays a key role in the longevity of the shoe.
Your trail shoes should offer ample stability to prevent ankle rolls or slips. A lower stack height, or the amount of shoe between your foot and the ground, increases stability on technical terrains by lowering your center of gravity.
Assessing Comfort and Fit for Trail Runners
Cushioning is crucial for comfort, especially when running long distances. Your shoes should provide enough cushioning for comfort without sacrificing stability or connection to the trail.
Ensure the shoes fit snuggly to prevent unwanted movement, which can lead to blisters or discomfort. For longer runs where feet may swell, consider a slightly roomier toe box to allow for toe splay.
Remember, the right trail shoes can elevate your running experience by providing the support, comfort, and protection you need on the trails you love.
Trail Shoe Features and Technologies
When you're picking out a trail running shoe, the features and technologies they contain are crucial to your performance and comfort on various terrains. From advanced materials that offer durability and breathability to specific design innovations for tackling rugged trails, understanding these elements will help you make an informed choice.
Advanced Materials and Design
Durability and breathability are essential for a good trail running shoe. The upper part of your shoe, often made from Gore-Tex or mesh materials, needs to be tough enough to resist tears from obstacles like branches while allowing your feet to stay cool.
Look for shoes that strike the perfect balance for your needs:
Gore-Tex Uppers: This waterproof material provides water resistance and durability.
Mesh Uppers: Enhance breathability, keeping feet cooler during runs.
Midsole cushioning, usually crafted from EVA foam, is another critical aspect. It should provide comfort while being responsive enough to handle uneven ground. Heavier, more cushioned shoes can offer extra comfort but might add weight.
In contrast, lighter shoes might be less cushioned but can improve your agility on trail runs.
Innovations in Trail Running Shoe Technology
Trail shoes also feature various technologies to help you navigate different trail conditions. A Vibram Megagrip outsole is a popular choice for its superior grip on wet and dry surfaces, enabling you to take on slippery rocks and loose gravel with confidence.
Toe guards and rock plates are beneficial additions that protect your feet from sharp rocks and roots.
Toe Guards: Shield the front of your foot from impacts.
Rock Plates: Offer protection against sharp objects underfoot without sacrificing flexibility.
Responsive Uppers made from advanced materials not only fit your foot snugly but also adapt to the terrain, providing stability and support.
And finally, the right balance between weight and durability is vital to ensure that your shoe can withstand the demands of the trail without holding you back. Look for materials designed to reduce weight while maintaining structural integrity.
Popular Brands and Their Specialties
As an experienced trail runner, you're well aware that choosing the right shoe can make all the difference on diverse trails. The proper footwear enhances your running experience, offering the right balance of grip, support, and comfort.
Let's dive into some of the top brands and what they're best known for.
Highlights of Leading Trail Running Shoe Brands
Altra: Known for its FootShape toe box and zero-drop platform, Altra's shoes like the Altra Lone Peak encourage a natural foot position and gait.
Hoka: Hoka's signature feature is its oversized midsoles, offering exceptional cushioning; Hoka Speedgoat 5 is a favorite among trail runners for its plush support and traction.
La Sportiva: Durability meets aggressive grip with La Sportiva shoes. The La Sportiva Bushido II is renowned for its technical prowess on rough terrain.
Inov-8: If you're looking for shoes with superb grip on slippery surfaces, Inov-8 excels with innovative outsole technologies.
Merrell: Offering versatile footwear, Merrell shoes are a go-to for trail runners seeking comfort and durability in a variety of conditions.
Salomon: Salomon is synonymous with high-performance and reliability; its trail shoes provide great security and grip on challenging trails.
Brooks: Brooks focuses on stability and comfort, with trail shoes designed to provide a smooth run on both muddy paths and rocky inclines.
Saucony: Saucony trail shoes are appreciated for their responsive cushioning and protective features, keeping your run comfortable over any distance.
Nike: A brand that's no stranger to innovation, Nike trail shoes often boast lightweight designs with responsive cushioning systems.
The North Face: For rugged, long-distance trails, shoes like The North Face Vectiv Enduris offer a balance of support, protection, and energy return.
Making a Decision: Price, Performance, and Personal Preference
Choosing the right trail running shoes involves considering your budget, the shoes' performance features, and what you personally prefer in terms of fit and feel.
Balancing Budget and Benefits
When you're selecting trail running shoes, it's important to balance cost with the benefits you'll receive. Here's how you can approach this:
Price and Value: Start by setting a realistic budget for your trail running shoes. Recognize that the most expensive option, such as the Speedland SL, is not always the best value for your needs. Conversely, the cheapest pair might not offer the durability or performance you require, especially for longer races or marathons.
Affordable: shoes that provide basic protection and comfort.
Mid-range: increased durability, better sole materials, and possibly better energy return.
High-end: top-of-the-line materials, advanced features for performance, and increased longevity.
Performance: Examine the performance features of each shoe. Look for ones that provide good grip, stability, and are designed for the type of trails you'll be running on. Performance also ties into how well the shoe allows you to maintain your desired speed and how it contributes to your overall energy efficiency.
Grip: essential for slippery or technical trails.
Stability: important for uneven terrain.
Cushioning: can help with energy return and comfort over long distances.
Personal Preference: Read customer reviews to see how others have experienced the shoe on various trails, but remember that personal preference plays a crucial role. The best running shoe for one person may not be the best for you. Factors like the fit to your foot, the feel during races, and how the shoes help with your speed can differ from runner to runner.
Fit: should be snug but not tight, with enough room for toes.
Feel: varies greatly, some prefer a firmer shoe while others opt for more cushion.
By integrating these considerations, you can make an informed decision to get the trail running shoe that's best for you, balancing price with the performance and personal satisfaction you seek.
About the Author
Latest Posts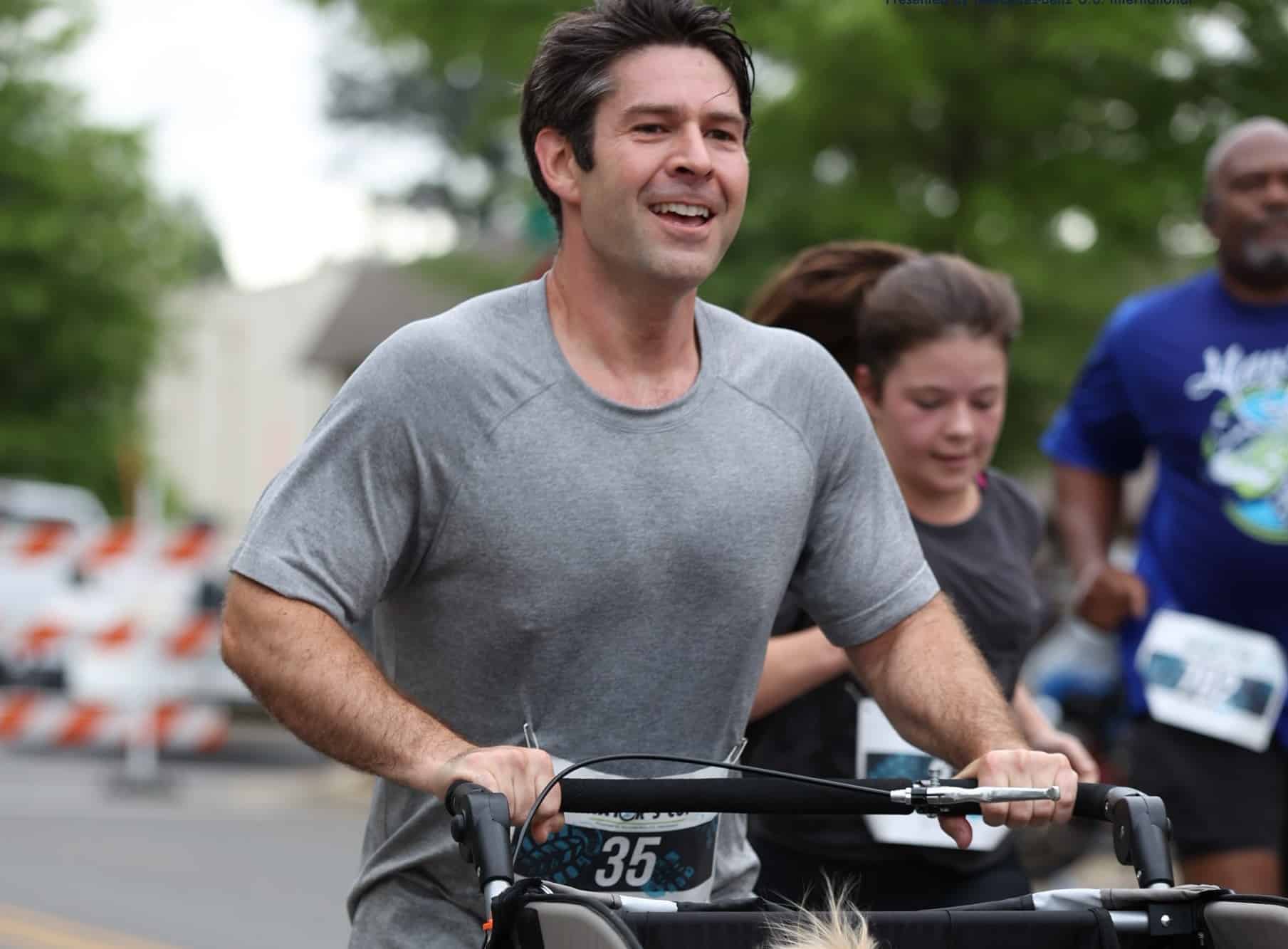 Joshua Bartlett is a professional amateur when it comes to running – basically, he takes his mediocre running ability very seriously.
As the Editor-in-Chief at Saltmarsh Running, it is his job to make sure that readers get only highly-researched and comprehensive questions to all of their running questions.