What Does David Goggins Wear for Running? (Shoes, Shorts, Watch, Etc.)
As runners, we idolize great athletes and strive to be like them in every aspect we can. After all, the ones who see big-time success must be doing something right! Taking a look at the gear of the best runners in the world can be hugely beneficial. Based on that line of thinking, what does David Goggins wear for running?
David Goggins wears either Brooks Addiction or ASICS Gel Nimbus with compression socks. He usually runs shirtless and with 5-inch inseam shorts for comfort. Finally, Goggins sports a Garmin watch and sometimes other accessories such as a chest heart rate monitor, sunglasses, a bandana, or a cooling towel.
Read on to learn about who David Goggins is and the wide variety of gear he uses while running.
Who is David Goggins?
Unless you're tapped into the ultramarathon or self-improvement world, it's likely you've never heard of David Goggins.
David Goggins is a former Navy SEAL turned ultramarathon runner. Following his time in the military, he took up endurance training to push himself to the limits. Goggins is also a motivational author and speaker who tells of his journey from childhood poverty to ultramarathon champion.
My introduction to David Goggins came through reading his book Can't Hurt Me. It is a phenomenal book about the power of your mindset and the fact that while we cannot control external events, we can choose how we internalize and respond to them.
As a child, Goggins had it rough. He was overweight and came from a family with a low socioeconomic status. But he didn't let that stop him.
He made a conscious choice to get in shape and eventually, after three tries, he passed Hell Week and became a Navy SEAL. He is believed to be the only member of the armed forces to have completed the elite training programs for the Navy, the Army, and the Air Force.
When he finished his time as a SEAL, he got into ultramarathon running as a means to keep challenging himself. As Goggins says, "I feel guilty if I haven't achieved every day."
As such an intense athlete, you know Goggins has put his equipment to the test and is only willing to use the best. So what does he use?
| Article of Clothing | Preferred Brand |
| --- | --- |
| Running shoes | Brooks Addiction or ASICS Gel Nimbus |
| Running socks | Unclear – probably some kind of no-show compression socks |
| Running shorts | 5-inch running shorts, various brands |
| Running shirts | A plain gray t-shirt (sleeveless, short-sleeve, or long-sleeve, depending on the weather) or, more likely, no shirt at all |
| Running watch | A square-face running watch, likely made by Garmin, although the model is unknown |
| Other running accessories | Heart rate monitor, Sunglasses, Bandana, Cooling towel |
Table of David Goggins' running clothing and accessories
Let's find out more about David Goggins and his preferred equipment.
Is David Goggins a professional runner?
Although his first mentally taxing job was as a Navy SEAL, is David Goggins considered a professional runner?
David Goggins is a professional runner. Over the course of his career, he has competed in over 70 ultramarathons, often ranking as a top competitor.
Goggins has been running since 2005, giving him 18 years of skin in the game at this point. Over those 18 years, he has been relentlessly competing in ultramarathons.
Goggins set his sight on being elite, and he set out to achieve it. The Badwater Ultra Marathon is known as one of the world's toughest races, so he set out to complete it.
Sure enough, he finished third place on his second attempt. If this doesn't speak to his aptitude as a runner, I don't know what will!
David Goggins' notable running achievements
As if completing over 70 ultramarathons wasn't enough, David Goggins has a long list of accolades that he has accumulated running these races.
David Goggins has 5 first-place finishes in his ultramarathon career. Goggins also has a long list of second and third-place finishes. He seeks out the most grueling races of all, has completed the Moab 240, Badwater UltraMarathon, and has even competed at the Ironman World Championship!
David Goggins is an absolute machine!
If regular marathons and ultramarathons aren't impressive enough, rest assured Goggins has got you covered.
He has competed in some of the toughest races around the world and, more often than not, he places or even wins them!
What's more impressive is at age 45, he completed the Moab 240, a 240-mile race in the scorching hot desert of Utah.
You can see a full list of the races he has run and all his achievements here.
What kind of running shoes does David Goggins wear?
Arguably the most important gear in your running arsenal is a solid pair of running shoes. As someone who has run challenging races for over a decade, Goggins surely wears a high-quality pair of shoes.
David Goggins wears the Brooks Addiction and the ASICS Gel Nimbus. The Brooks Addiction provides supreme comfort and maximum support to fit Goggins' long-distance running needs, as does his pair of ASICS.
Anyone who has been a runner before knows that Brooks holds some serious credibility. I myself have run in many pairs of Brooks, and I swear by them.
Check out the reasonably priced Brooks Addiction running shoes.
Goggins is no different. After trying many shoes and having subpar experiences, he settled on the Brooks Addiction as his go-to shoe.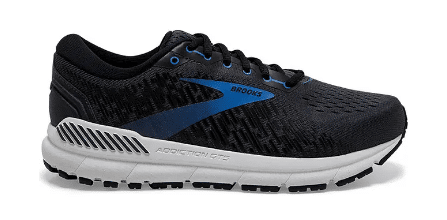 The Brooks Addiction provides runners with adequate cushioning and tons of support. They're great for everyday runs, and as Goggins has shown us, perfect for long runs as well.
That's not all, however.
Goggins often rotates a pair of ASICS Gel Nimbus into the mix. Like Brooks Addiction, the Gel Nimbus are lightweight and ultra-cushioned for his ultramarathon needs.
Check out the even more reasonably priced ASICS Gel Nimbus running shoes.
What kind of running socks does David Goggins wear?
Before you can equip yourself with running shoes, you need suitable socks first!
Goggins is particular about his gear. So what is his preferred sock choice?
Goggins has never spoken about the running socks he wears, but we can assume they are no-show compression socks. By wearing compression socks, Goggins achieves greater circulation in the legs and prevents swelling throughout the duration of a race.
While David Goggins has openly talked about his stance on running footwear (he prefers lots of cushion), he has never spoken about his socks.
With the various amounts of media on the internet, you'd think one could dig deep and find the answer; that is not the case.
Socks are still important though!
The right socks when running can make all the difference.
The best we can do is assume that David Goggins wears short compression socks. None of his media content or race videos show long compression socks, so we can easily rule those out.
By wearing compression socks, the legs are less likely to swell and blood circulates more easily; this is crucial when running long distances.
Personally, my favorite running socks of all time are the Balega Hidden Comforts – really, they are worth it!
What kind of running shorts does David Goggins wear?
Running shorts are a crucial part of your running gear. Lightweight, moisture-wicking shorts make all the difference in temperature regulation and comfort.
David Goggins wears 5-inch inseam running shorts, although the actual brand is not public knowledge.
Looking at videos of Goggins running, it is obvious he wears running shorts with 5-inch inseams. Unfortunately, the brand doesn't have a glaring logo, so we cannot determine the exact pair he wears.
Running in shorts with 5-inch inseams is good because shorter running shorts allow the legs to breathe, subsequently cooling runners off.
Additionally, shorter shorts are often more comfortable for runners and can prevent chafing. Over 240 miles, I'm pretty sure Goggins would rather not have chafed thighs!
What kind of running shirts does David Goggins wear?
Another important aspect of running is the shirts that we wear. To avoid chafing and heat exhaustion, shirts must be carefully crafted and well-fitted.
What type of shirt does David Goggins wear when running?
None! David Goggins hardly ever wears a shirt when running. Even during races, the extent of his shirt is a gray tank top. He always pins his race bib to his shorts. This way, the shirt can later be stripped off and left behind.
Running shirtless can actually be better than running with a shirt on. By running shirtless, runners often enjoy a nice breeze and find it much easier to cool off than with a shirt on.
As someone who runs the Badwater Ultra in 120-degree heat, Goggins is certainly justified in running shirtless. Plus, he's in really good shape!
For more information about whether running shirtless is for you, check out this article.
What kind of running watch does David Goggins wear?
Another important aspect of your running arsenal is the watch you wear. Running watches help keep track of your distance, your pace, and even your heart rate.
What is Goggins' go-to?
It is difficult to see in his social media videos, but David Goggins wears a square-face running watch presumed to be made by Garmin. The exact model is unknown but it could be the Venu or Venu 2.
Check out the most popular Garmin Smart Fitness Watches!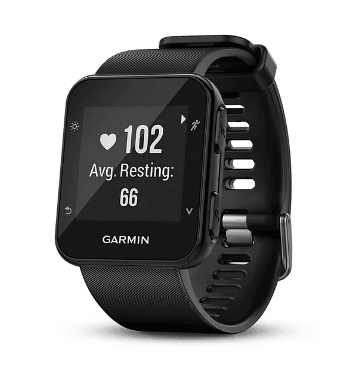 A high-quality watch with a variety of functions is important for Goggins. He needs to pace himself and track distance when running miles upon miles.
The heart rate feature is also important as Goggins runs many ultras in the dead heat of summer, although as you'll see later, Goggins wears other equipment specifically for tracking his heart rate.
Garmin is a great brand for running watches. They're affordable and easy to use, plus their GPS function makes tracking distance more accurate than ever!
What kind of running accessories does David Goggins wear?
On top of the shoes, shorts, and other important accessories, what gear does David Goggins use?
David Goggins has been seen wearing a heart rate monitor strapped around his chest, sunglasses, a bandana, and sometimes a cooling towel around his neck.
Many of Goggins' races are performed in the blazing heat because that's the hardest thing he could do. His extra accessories reflect that.
The heart rate monitor is essential to maintaining a sustainable heart rate level; too high of a heart rate in extreme weather does not bode well for runners.
The sunglasses and bandana are great for sun protection. Goggins does not always wear shades and a bandana, but it seems that he usually breaks them out for race days.
Finally, David Goggins will wear a cooling towel around his neck in scorching environments to help regulate his body temperature. While he is a beast, he's not immune from heat stroke.
About the Author
Latest Posts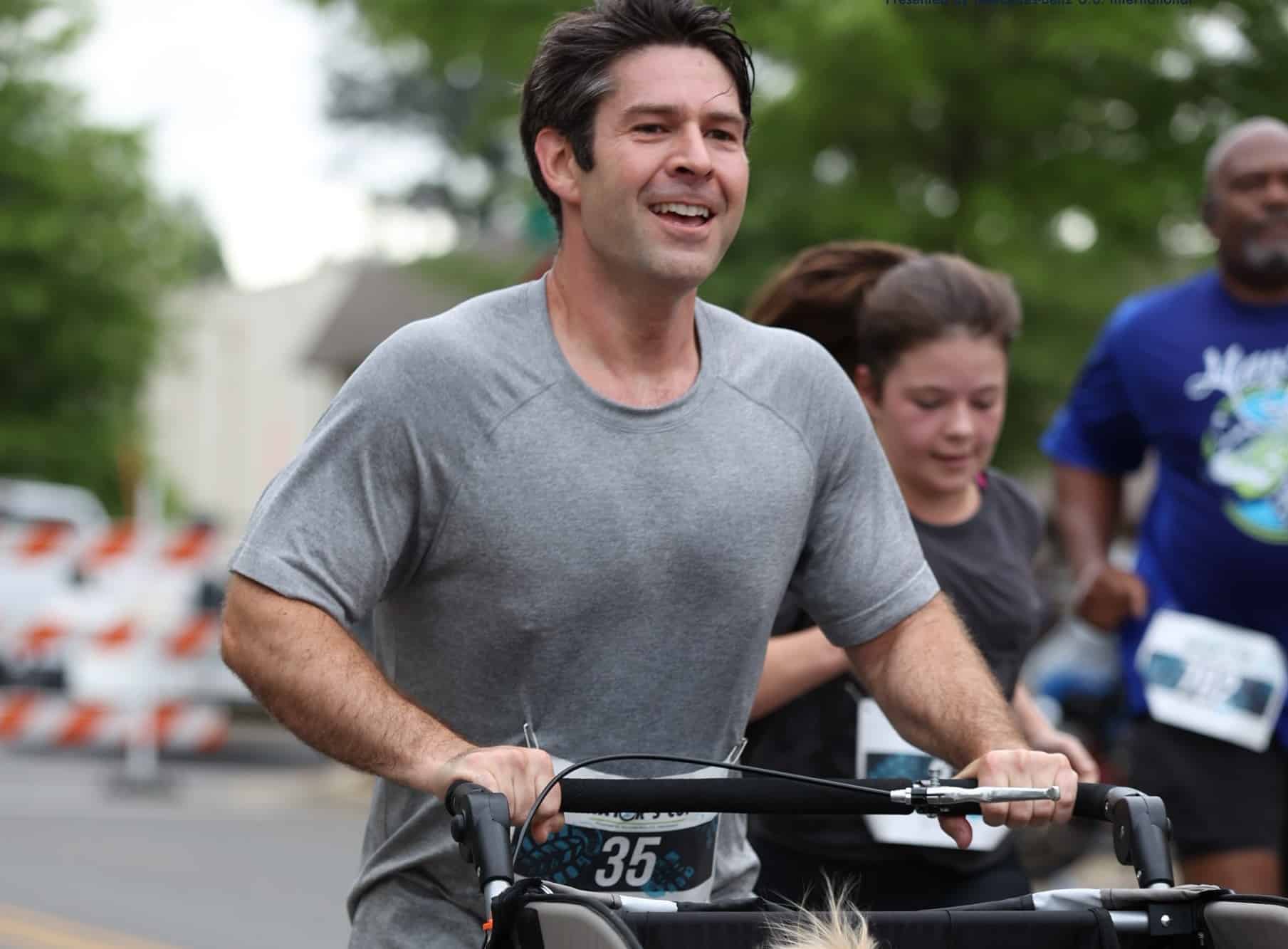 Joshua Bartlett is a professional amateur when it comes to running – basically, he takes his mediocre running ability very seriously.
As the Editor-in-Chief at Saltmarsh Running, it is his job to make sure that readers get only highly-researched and comprehensive questions to all of their running questions.