Best Running Shoes Made in the USA (NOT in China)
Increasingly, where and how we spend our money is a reflection of our ideals and opinions. Shopping for running shoes is an extension of this. For years America has depended on cheap Chinese manufacturing to turn quick profits on many products. However, many Americans are disgruntled by this and would rather pay top dollar for American-made products. What are the best running shoes made in the USA – not in China?
The best running shoes made in the USA are produced by New Balance, SAS, and Altra Running. While the majority of modern running sneakers are produced in China and other countries in South East Asia, these brands have stuck to their American roots and continued to produce high-quality sneakers within the country.
Read on to learn about where most running shoes are produced as well as the best American running shoe brands!
Are most running shoes made in China?
In a world where developed economies focus on outsourcing labor, many goods are now produced in South East Asia, specifically China.
Does this hold true for running shoes?
Most running shoes are made in China. Nearly every large brand you can think of (Hoka One One, Asics, Under Armour, Nike, etc.) manufactures the bulk of their running shoes in China.
Unfortunately, if you're conscious about what goes into your running shoes, most are produced in China. There are various reasons for this, namely low labor costs and a flourishing business environment.
However, this does not mean running shoes made in China are low quality. In fact, as I mentioned earlier, some of the brands with the best quality produce their sneakers in China!
The best running shoes made in the USA
If you want to support your local economy and create jobs that follow ethical labor standards, shopping for your running shoes in the USA is your sure-fire best option.
To help you along your journey to purchasing American-made products, I've compiled a list of the best "Made in USA" brands as well as the best models by these brands:
SAS
Altra Running
New Balance
While most avid runners are already familiar with these brands, let's take a look at their best American-made running shoes.
SAS
Founded in 1976, San Antonio Shoemakers (SAS) has kept manufacturing close to home throughout the duration of the company's lifespan.
SAS produces hand-crafted shoes that are great for running. While the price tag can be a bit steep, you get what you pay for in terms of quality and longevity.
San Antonio Shoemakers was founded by Terry Armstrong and Lew Hayden with the goal of producing sneakers from high-quality leather.
Over the years, they have expanded their repertoire and have many athletic shoes that are American-made and great for running.
Journey Mesh Sneaker
Coming in at a price tag of $205, you should expect a lot of features. SAS certainly delivers.
The Journey Mesh Sneaker has a breathable mesh upper that is paired with a proprietary CoolStep footbed that keeps your feet cool and dry for the duration of your run.
This model is also outfitted with a shock-absorbing midsole as well as a heel stabilizer that helps correct heel strike in all instances.
Go take a look at the Journey Mesh Sneaker for yourself!
Pursuit Sneaker
The Pursuit Sneaker produced by SAS is highly acclaimed, with a total rating of 4.7 stars from various customers.
It's for good reason: the features on this sneaker are top-tier. The upper is uber-breathable with a mesh upper and a knitted lining.
The midsole and outsole are both constructed with lightweight polyurethane for comfort and ergonomic advantages.
Last but certainly not least, the footbed is odor-resistant to avoid stinky shoes after sweating up a storm.
Check it out on the SAS website.
Airhon Non-Slip Shoe
With the steepest price tag of all, the Airhon Non-Slip Shoe leaves nothing left to be desired.
The design is something you won't find anywhere else, and the materials are only the best grade. The upper is crafted with leather and textiles; while it may not be as breathable as mesh, this shoe will last much longer.
The footbed and midsole are both made with lightweight polyurethane that absorbs shock and cushions the foot during times of high impact.
The stand-out feature on this sneaker, as the name implies, is a slip-resistant sole. Don't let nasty running conditions slow you down, the Airhon sneaker has you covered on rainy days!
Altra Running
For runners out west, Altra Running provides high-quality road and trail running sneakers sure to satisfy all your needs.
Altra Running was founded in Utah in 2009. They focus on innovative designs that fit the foot comfortably, all the while producing all of their shoes within the USA.
Founded by a couple of high school cross-country buddies, Altra has expanded to become a big name in the American running industry.
Their staple, FootShape, is designed to accommodate the natural shape of your feet. This differs from other companies who design narrow running shoes; oftentimes, narrow shoes cram your feet and toes into long-lasting deformities.
Not only this, but Altra is surprisingly affordable for being made in the USA!
Olympus
Clocking in at $170, the Altra Olympus model is perfect for road runners who desire maximal cushioning.
The Olympus model features the signature FootShape alongside their proprietary Altra Ego Max midsole foam for supreme cushioning and durability.
Although the cushioning is at a maximum, the weight is not. The Olympus model is a mere 11oz!
Another key feature is the absence of a heel drop, so if that is your preference, it is your lucky day!
Go check out the Men's Via Olympus and see what you think.
Lone Peak 7
Runners in need of an American-made trail running sneaker, look no further. The Lone Peak 7 is everything you've been waiting for.
The upper on this sneaker is made of a breathable mesh fabric to keep your feet cool on hot days. This helps keep the weight of the sneaker at a lightweight 11oz.
The defining feature here is the MaxTrac outsole, an Altra-specific outsole that combines grip, traction, and durability for enhanced trail-running performance.
It's rated as moderate in the cushioning department, so it may strike a balance for those who need more than barefoot cushioning but less than maximum cushioning.
You can do some more research on Altra.
Escalante Racer
Speed demons will be happy with the Escalante Racer as it's designed for speed and racing performance.
It comes with a low cushioning rating, which seems appropriate for a racing sneaker. It is still designed with the Altra Ego midsole foam to "harmonize the balance between responsiveness and comfort."
This racer is lightest of all at 6.8oz. This is due to the lightweight mesh upper alongside the absence of excessive cushioning.
Altra also employs their InnerFlex and Footpod technology on this sneaker, resulting in flexible, natural foot movements.
In essence, these are lightly cushioned racers made to feel barefoot. I encourage taking the time to check out the Escalante Racer for yourself.
New Balance
For an American brand with certified quality goods, look no further than New Balance.
New Balance crafts excellent running shoes in the USA through their "MADE in USA" line. This designation means that at least 70% of the value was added to the shoe in the USA.
My first ever pair of running sneakers was a pair of New Balance. Red, navy, and felt like I was walking on a cloud. I'll never forget them as they helped me really take a deep dive into the sport.
New Balance produces a handful of products in the USA. Unfortunately, many of their running sneakers are still produced overseas.
MADE in USA 990
Touted as the "ultimate blend of performance and style," the New Balance 990 is "a staple of both morning runs and fashion runways."
The 990 model comes in various forms, from the original all the way up to v6, or the sixth version of the sneaker.
While stylish, the New Balance 990 is excellent for casual runners.
The shoe has a suede and mesh upper for breathability, great midsole cushioning, and a 12mm heel drop, all at a weight of 13.7 oz.
You can take a look for yourself on New Balance's website.
MADE in USA 993
New Balance's 993 model has been produced exclusively in the USA for over 75 years now. If that isn't patriotic, I don't know what is.
The 993 is a comfortable sneaker that can be paired with any outfit; for my fashion-centric people, this sneaker is a must-have.
With a suede and mesh upper, flexible support through the midsole, and a durable rubber outsole, the 993 is the perfect blend of lifestyle and performance. I wouldn't wear them for long runs, but they are great for a morning jog or taking your dog on a walk.
Consider picking up a pair for yourself!
About the Author
Latest Posts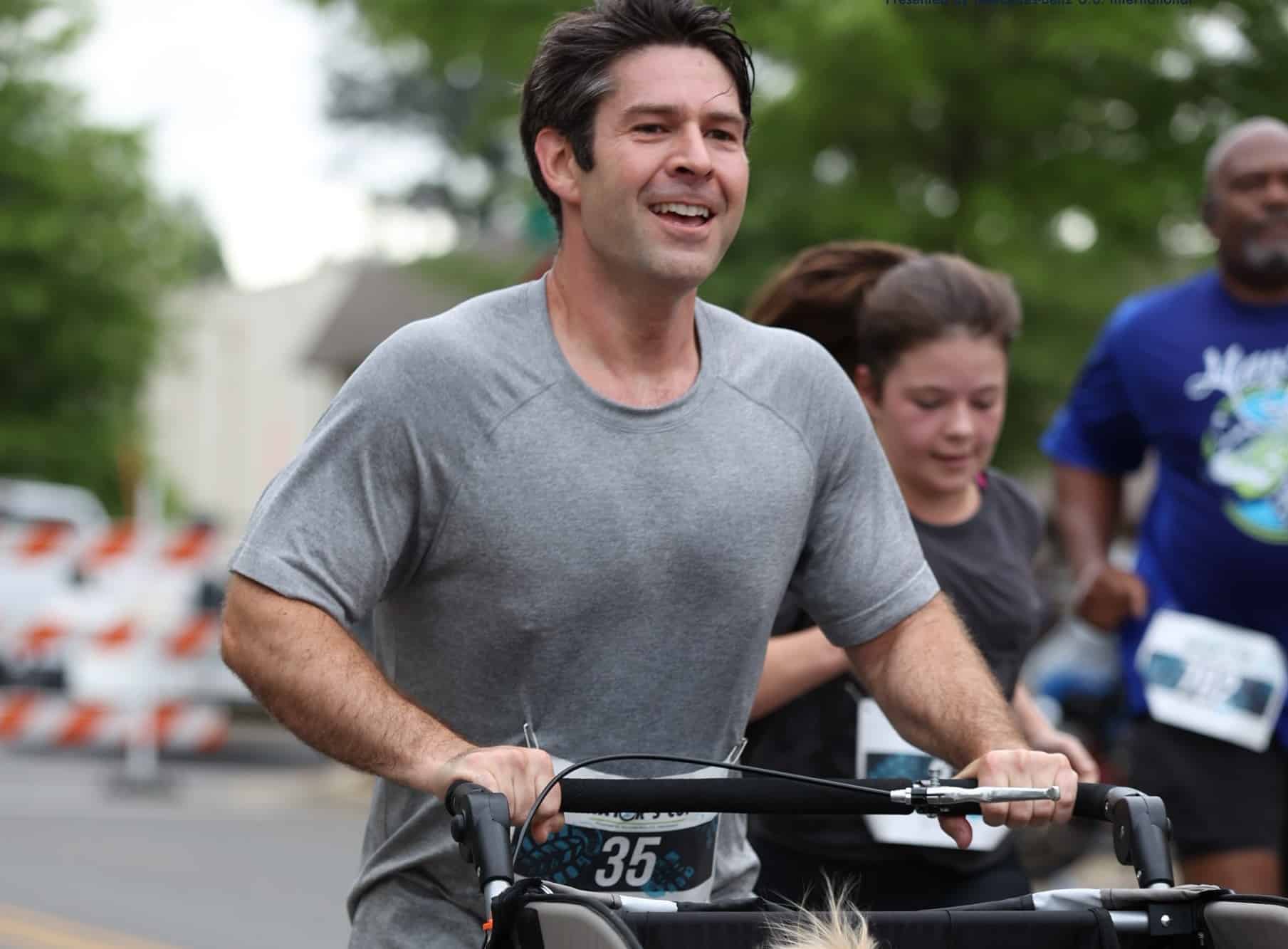 Joshua Bartlett is a professional amateur when it comes to running – basically, he takes his mediocre running ability very seriously.
As the Editor-in-Chief at Saltmarsh Running, it is his job to make sure that readers get only highly-researched and comprehensive questions to all of their running questions.