Yes, You Can Wear Running Shoes Casually! (5 Good Reasons)
Running shoes are quite expensive and it bothers me when I spend that much money on a pair only to wear them out on runs. If you're like me, you may feel like it's wasteful to buy new shoes that can't even be worn out. To maximize the value you get out of them, ask yourself: can I wear my running shoes casually?
You can absolutely wear running shoes casually, although wearing your running shoes day-to-day will decrease their lifespan. If you pick a classic silhouette in neutral colors, you can wear your running shoes with various outfits and enjoy comfort and support for your feet. Unless you're planning on going full athleisure, avoid more garish styles.
Keep reading to learn more about the benefits of wearing running shoes casually, when it makes sense to wear running shoes casually, and how to wear running shoes in a stylish manner.
Potential benefits of wearing running shoes casually
As with all things, there are drawbacks. Wearing running shoes casually may cause your shoes to degrade quicker than if exclusively worn for running, effectively decreasing the lifespan.
However, today is all about the benefits.
Here are 5 potential benefits of wearing your running shoes casually:
Comfort
Support
Style
Versatility
Durability
Want to know more? Keep reading!
Comfort
I don't know about you, but I'm not willing to compromise on comfort.
Wearing running shoes casually provides all-day comfort for those who are constantly out and about on their feet.
Stemming from running shoes being built to cushion high-impact activity, they can be super comfortable.
Many casual shoes are unable to rival the comfortable fit of running shoes; they often lack the cushioning in the midsole that running shoes have.
If you need a comfortable everyday shoe because you spend a lot of time on your feet, your running shoes are certainly worth a shot.
Support
Similar to providing comfort, running shoes are excellent for providing support.
Wearing your running shoes casually can help provide support to your feet. Many running shoes are built with specific foot types in mind, so buy them properly to accommodate your arch.
You and I both have one of the following foot arches: flat or no arch, a regular arch, or a high arch. Regardless, there is a running shoe for you. You'll need to add an insole to get the same comfort in a loafer.
Tying back into the comfort aspect of running shoes is support. You'll find yourself miserable and uncomfortable without the correct support for your foot type.
Luckily, running shoes can often give you exactly the support your feet have been longing for.
Style
The second most important factor after comfortability? Looking good!
Wearing running shoes casually can enhance your style and give you a chance to experiment with different looks.
In recent years, running shoes have had an absolute resurgence in the fashion industry. New Balance and HOKA are stylish ways to top off your outfit.
While many running shoes may be considerably off-putting to the eye, some cool models can be worn with various outfits for different occasions.
Spice things up with your running shoes!
Versatility
Having shoes for every scenario is important. Luckily, running shoes can satisfy your every need.
Running shoes are versatile and can be worn in a variety of settings between work, social settings, and exercise.
Things come up, and we need flexibility. We have full-time jobs, and kids that we are committed to taking care of, and yet we also have to find the time to exercise!
Wearing your running shoes as a daily sneaker is a great way to spend your time effectively.
By wearing your running shoes every day, you can save yourself the extra trip home to change into your shoes before going to the gym, for a run, etc.
Durability
Whether you work a back-breaking job or just happen to be on your feet all day, you can count on running shoes to withstand the activity you put them through.
Running shoes are great for everyday wear because they are constructed with durable materials such as EVA midsoles and rubber outsoles.
The wear and tear from running is substantial, therefore running shoes must be tough and durable.
EVA, or Ethylene Vinyl Acetate, works as a durable cushion between your foot and the ground that can last for more than 10 years. Of course, with wear, they will degrade.
Rubber is another material known for its long-lasting lifespan.
If you wear your running shoes casually, you can rest easy knowing they'll be your go-to sneakers for a long time.
When it makes sense to wear running shoes casually
If I've sold you on the idea of wearing your running shoes casually, great! I'm glad you see the same benefit as I do, and I'm sure you won't regret your decision.
This probably leads you to wonder, "So, when can I start wearing my running shoes casually?"
The answer? Almost always!
The following scenarios are great opportunities to wear your running shoes:
Everyday wear
Casual outdoors activity
Work
Travel and leisure
Don't believe me? Let's discuss!
Everyday wear
Running shoes are great for everyday wear from the grocery store to the gym.
Running shoes can be worn in various situations, from shopping to running. Any activity that requires walking or lots of time on your feet is a promising opportunity to get some use out of your running shoes.
Everyday life is all-encompassing. With a long list of responsibilities to take care of, life sees us on the move constantly.
You need a shoe to serve you, to properly accommodate your lifestyle. Running shoes are the best available option.
Think of all the walking you do in one singular day: strolling down aisles at the grocery store, walking up the stairs at work, moving between classes if you're a student, etc.
Running shoes are of value to everyone every day.
Casual outdoors activity
Besides running, your running shoes are also great for other outdoor activities.
Any sort of outdoor activity is an appropriate time to wear your running shoes. Oftentimes, outdoor activities involve lots of movement and time on your feet, so running shoes are a wonderful option for comfort.
Casual outdoor activities could include things like tending to your garden, playing a pickup game of basketball, walking the dog, etc.
You should consider your running shoes a one-stop shop for everything you need.
Work
Work can be flat-out tiresome. Employ your running shoes to help get you through the day.
Work is a great opportunity to break out your running shoes. Many jobs require being on your feet constantly, so running shoes are the perfect solution for providing all-day comfort and support.
Nurses work long hours, pacing around the hospital to provide the proper care to patients. Care to take a guess what they usually have on their feet?
Running shoes! Nurses and many other professionals wear running shoes to work for comfort and support.
The nurses I know are all into the Hoka Bondi Leather shoe right now because it's incredibly comfortable, very stable, and – unlike many running shoes – has a solid leather upper (a must when bodily fluids are a daily risk!).
Consider giving your running shoes a chance at work and see how you like them whether you're a nurse, construction worker, or even a corporate employee.
Travel and leisure
A large part of travel is walking around and seeing new sights. Take your running shoes around the world to avoid foot pain in the process.
Running shoes are great shoes for travel. The constant go, go, go nature of traveling puts a lot of strain on your feet; wearing running shoes helps alleviate pain.
Whether you like to hike or your idea of traveling is confined to a beach resort in Cancun, running shoes are a great option for guaranteed comfort.
Moving through airports and catching flights is a stressful business. Lighten the load by wearing your running shoes.
How to wear running shoes casually – style guide
A large misconception held by runners is that running shoes are strictly functional, and lacking any style. I'm here to change that.
Once you begin wearing your running sneakers casually, it's important you know how to dress them up properly so you can be both cool and comfortable.
You may find yourself wondering exactly how to sport your sneakers in the following scenarios:
Casual dress
Athleisure
Business casual
Well, I'm here to tell you!
Casual dress
Wearing your running shoes in a casual outfit seamlessly blends a laid-back and sporty look.
In a casual setting, the options are limitless! You can pair neutral-colored running shoes with just about anything, so whatever your preference is, go for it.
Casual dress has no rules, so the sky is the limit.
When dressing casually, I like to pair my running shoes with jeans or khaki pants for a balanced look. You can wear a tee on top, a polo, or even something nicer like a button-up if you're aiming for a more sophisticated look.
My biggest guideline here is to put together a good color profile. Your shoes should be toned-down and neutral in color for a proper look.
Athleisure
There's nothing easier than wearing running shoes in their natural habitat.
Pair your running shoes with other athletic wear to successfully pull off the athleisure look. Consider mixing in other articles of clothing for variety.
Athleisure is the perfect blend of fashion and functionality.
The concept of athleisure involves wearing athletic clothing in a stylish manner. In our scenario, the centerpiece of your outfit is your running sneakers.
If you follow celebrity news at all, you probably know that athleisure is having a moment, especially in women's fashion. Haley Bieber, Kim Kardashian, and many more are regularly seen in their comfiest shoes, no matter what they're doing.
Pair casual pieces from your wardrobe with some of your athletic clothing to build out your outfit.
If you like bright colors, now is the time to show them off. Athleisure is known for having a sporty, effervescent look; colors play in perfectly.
Business casual
Even in professional, business-like settings, runners can wear their running shoes and look great doing so.
While business casual dress code has some restrictions, running shoes can typically still be worn so long as they have a sleek silhouette and neutral colors.
Business casual is ambiguous, but we know for a fact it involves dressing up (or down) more than usual.
Because you'll find yourself in a professional setting, it's necessary to tame your choice of sneakers and dress appropriately. Neutral colors with lowkey running sneakers are the perfect way to do so.
I recommend brown or gray running shoes because they are the most versatile options to pair with jeans, chinos, or even dress pants.
How to choose the right running shoes for casual wear
When buying shoes strictly for running, a few considerations must be taken into account. Buying running shoes for casual wear is no different.
In order to do double duty as casual wear, your running shoes should have the right:
Comfort and fit
Style and color
Materials
Want to know more? Let's take a quick look at each of these requirements.
Comfort and fit
What good are your shoes if they aren't comfortable?
Purchase running shoes that fit your foot comfortably and support your foot type correctly.
As I mentioned earlier, we all have different arches. Your running shoes should reflect this.
Additionally, you want your shoes to fit comfortably. They should be snug but not suffocating; a bit of extra room is okay if you're purchasing your shoes mainly for casual wear.
Style and color
To add an extra flare to your wardrobe, pick running shoes in styles and colorways that you love to wear.
There is no right or wrong in terms of choosing style and color. Buy what you prefer! However, choose a sleek silhouette with neutral colors to get the most bang for your buck.
Some runners prefer incredibly bright colors, while others prefer sneakers that don't stand out so much.
My sneaker preference would be a bit bulky with neutral colors, but this isn't for everyone. Sleek silhouettes are great for casual wear, and bright colors can be worn in a number of ways if you get creative.
The moral of the story? Buy what you know you'll wear.
Materials
The materials in your running shoes are crucial to having a good daily sneaker.
When buying running shoes for casual wear, buy road-running shoes with lightweight materials.
For a comfortable and breathable daily sneaker, purchase running shoes made with lightweight materials such as nylon or polyester. These durable fabrics allow your feet to breathe throughout the day, preventing off-putting stenches.
If you prefer a casual look to a sporty look, you can consider purchasing running shoes with suede or leather. However, these shoes won't be great for the actual activity of running.
About the Author
Latest Posts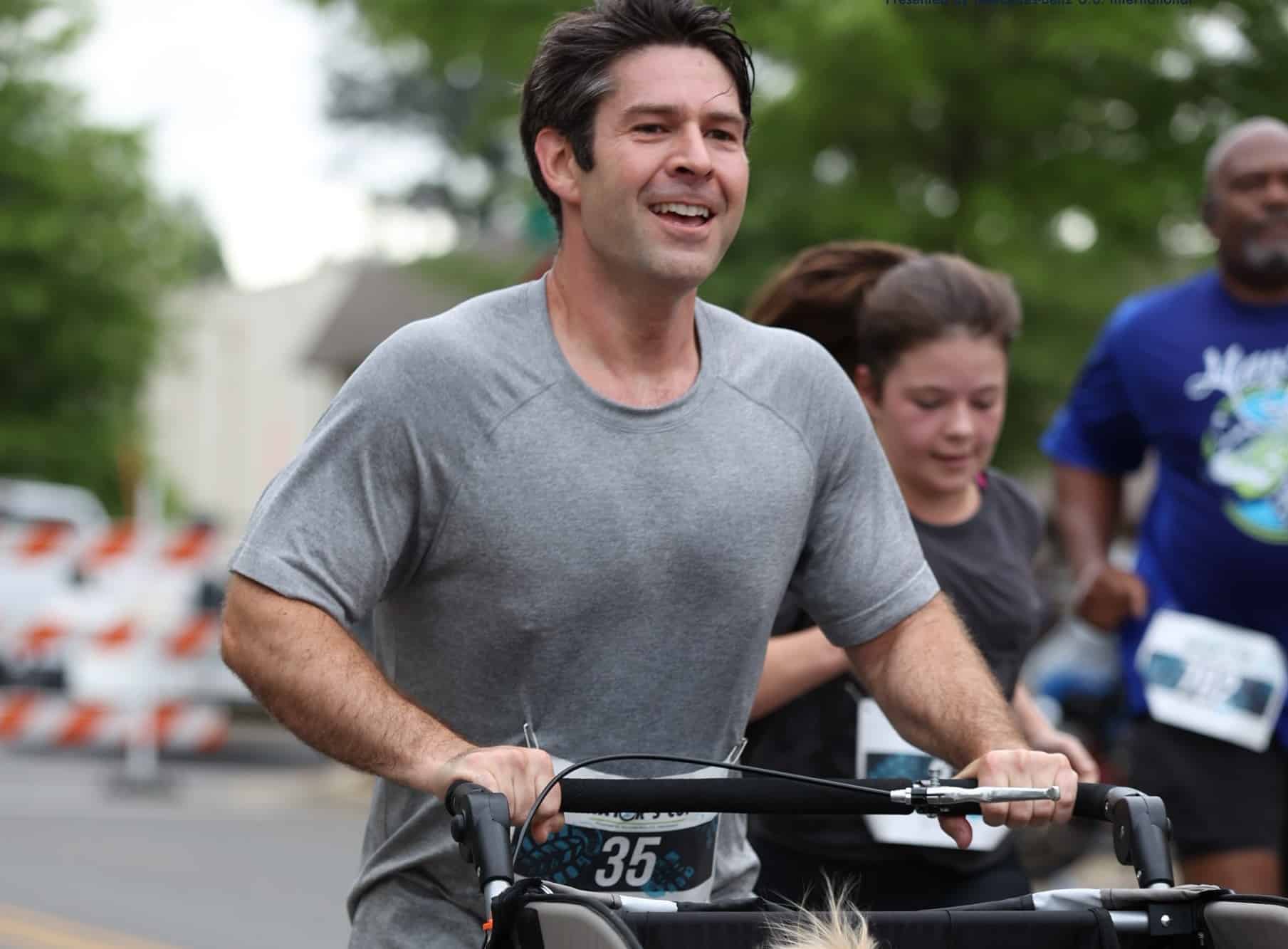 Joshua Bartlett is a professional amateur when it comes to running – basically, he takes his mediocre running ability very seriously.
As the Editor-in-Chief at Saltmarsh Running, it is his job to make sure that readers get only highly-researched and comprehensive questions to all of their running questions.