What Does Eliud Kipchoge Wear for Running? (Shoes, Shorts, Watch, Etc)
Do you follow the running career of Eliud Kipchoge? If so, you might be interested in learning a bit more about the equipment and gear Kipchoge uses to outfit his training.
Eliud Kipchoge is an Olympic gold medalist and multi-marathon record holder who is currently sponsored by Nike. Due to this partnership, he primarily wears Nike gear when running, including Nike Vaporfly running shoes, Nike compression running socks, Nike Dri-fit Aeroswift compression pants or shorts, and Nike Dri-fit tank tops.
Keep reading for more on the specific clothing and gear Eliud Kipchoge wears as an ultra-endurance athlete and professional marathoner.
Who is Eliud Kipchoge?
Eliud Kipchoge is a Kenyan athlete, widely considered to be one of the greatest long-distance runners of all time. He is best known for his incredible marathon achievements, including his world-record time of 2:01:39 set at the Berlin Marathon in 2018.
Kipchoge is the first person to ever run a marathon distance in under two hours, completing the INEOS 1:59 Challenge in 1:59:40. Kipchoge's incredible achievements have earned him numerous awards and accolades, including 2 Olympic gold medals, 10 World Marathon medals, 1 track & field World Championship, and the Order of the Golden Heart of Kenya, the highest honor given to a civilian in the country.
| Article of Clothing | Preferred Brand |
| --- | --- |
| Running shoes | Nike Vaporfly or various styles of Saucony running shoes |
| Running socks | Nike compression running socks |
| Running shorts | Nike Dri-fit Aeroswift or INEOS compression pants/shorts |
| Running shirts | Nike Dri-fit tank tops |
| Running watch | Coros Page 2 |
| Other running accessories | Abbott Libre Sense glucose patch |
Table of Eliud Kipchoge's running clothing and accessories
Is Eliud Kipchoge a professional runner?
Eliud Kipchoge is a professional runner, sponsored by Nike.
He has competed in numerous high-profile races, including the London Marathon, the Berlin Marathon, and the Olympic Games.
Eliud Kipchoge's notable running achievements
Eliud Kipchoge has two Olympic gold medals and ten more golds in World Marathon Major events from 2014-2022, and he's likely to add more to his collection this year!
Some of Kipchoge's most notable running achievements include:
Berlin Marathon, 2018 – Set the wold-record time of 2:01:39
Rio de Janeiro Olympics, 2016 – Won his first Olympic gold in the marathon event
Tokyo Olympics, 2020 – Won his second Olympic gold in the marathon event; one of only three athletes to win the marathon twice (no runner has ever placed in the top three twice).
Ineos 1:59 Challenge, 2019 – Recognized by the Guinness Book of World Records as the Fastest marathon distance (male) and First marathon distance runner under two hours.
What kind of running shoes does Eliud Kipchoge wear?
Eliud Kipchoge is a Nike-sponsored athlete and is known for wearing Nike Vaporfly running shoes during races.
The Nike Vaporfly is a popular running shoe for long-distance runners because of its foam-and-carbon sole structure. This sole helps preserve runners' energy.
While there's no doubt Kipchoge would be a world-famous runner no matter what shoes he was wearing, there has been some backlash against the technology in these shoes, and some argue that the soles give runners an unfair advantage.
He also wore Saucony running shoes during training and other events.
What kind of running socks does Eliud Kipchoge wear?
Kipchoge has been spotted wearing Nike Elite running socks and Nike Compression running socks on multiple occasions.
Nike Compression socks (and all kinds of compression socks) can help with blood circulation in the lower leg.
This can reduce swelling and can be a good idea when running extremely long distances, as Kipchoge often does. 
What kind of running shorts does Eliud Kipchoge wear?
Eliud Kipchoge, in keeping with his sponsorship, has been seen wearing Nike running shorts and Nike Dry-fit Aeroswift compression pants during races and training.
He also frequently sports INEOS compression shorts for many of his long races.
What kind of running shirts does Eliud Kipchoge wear?
Kipchoge is seen wearing a number of different forms of Nike upper-body apparel on his popular Instagram account. He wears everything from Nike Dri-fit t-shirts to Nike tank tops, windbreakers, and quarter-zip jackets.
For races, he can be seen wearing custom Nike tank-tops sporting his team name (NN running team) and sponsors or in the case of International competitions, the name of his native Kenya.
What kind of running accessories does Eliud Kipchoge wear?
Eliud Kipchoge has been seen wearing a Coros Pace 2 watch.
He also constantly wears a number of silicon bracelets on his wrists, including one that reads, "No human is limited."
When Kipchoge became the first person to run a sub-2-hour marathon in 2018, he was wearing white Nike arm sleeves on both arms. He is also sponsored by and advocates for Abbott Libre Sense, which is a sensor worn on the back of the arm that measures glucose levels for extreme athletes.
About the Author
Latest Posts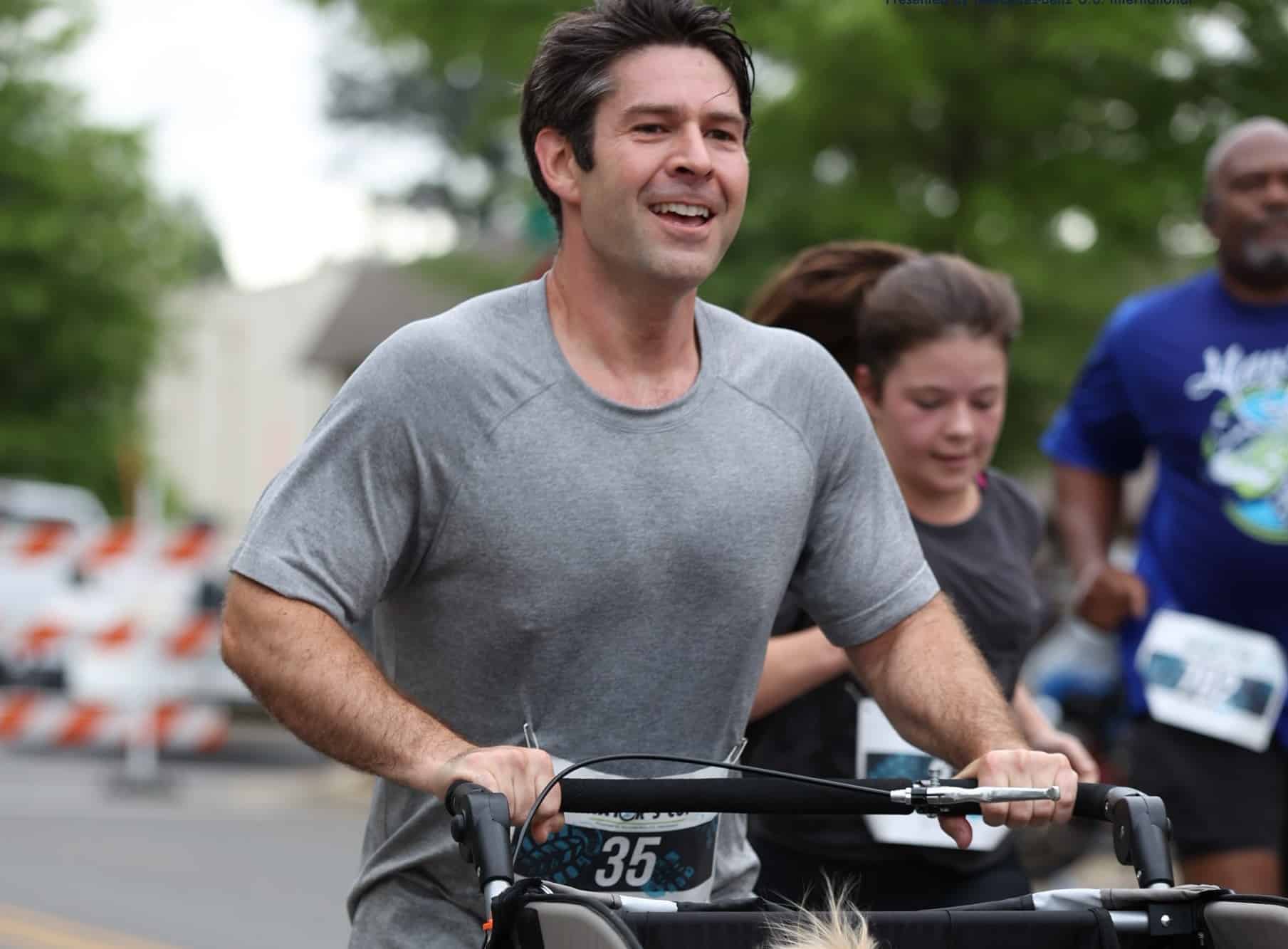 Joshua Bartlett is a professional amateur when it comes to running – basically, he takes his mediocre running ability very seriously.
As the Editor-in-Chief at Saltmarsh Running, it is his job to make sure that readers get only highly-researched and comprehensive questions to all of their running questions.