What Does Usain Bolt Wear for Running? (Shoes, Shorts, Watch, Etc.)
The gear we equip ourselves with as runners is imperative to our success. How our gear fits and supports our bodies not only affects comfort but performance as well.
An ill-fitting pair of running shoes or shorts results in pain and subsequent suffering. Do you really want to deal with those repercussions?
But where to start on your conquest to find the right gear?
Modeling your gear build-out after successful runners is a great place to start. Today's runner of choice is Usain Bolt.
Usain Bolt is an absolute brand loyalist when it comes to his running gear: he wears Puma spikes, Puma compression shorts, and Puma tank top jerseys. He seldom uses running socks or a running watch. In other words, Bolt loves to keep things simple and always goes with Puma products for all of his needs.
Read on to learn about Usain Bolt's running background and a comprehensive summary of his running gear.
Who is Usain Bolt?
In case you haven't heard of Usain Bolt, he's only the greatest sprinter to ever bless the Earth.
Usain Bolt, born August 21 in 1986, is a legendary Jamaican sprinter with a lengthy list of achievements. Without a doubt, Bolt is one of greatet sprinters of all time; he has set world records in the 100m and 200m sprint, earning him the nickname "Lightning Bolt".
Usain Bolt is a familiar name for those who have watched the Olympics in past years. While now retired, he topped the sprint leaderboards in nearly every Olympic competition he competed in.
Describing him as a talented sprinter would be a gross understatement; he's arguably the best sprinter of all time!
From 2008 to 2016, he dominated the 100m and 200m sprint as well as the 4x100m relay with his Jamaican teammates.
His immense success on the track comes as no surprise. Bolt loved all sports during his childhood and played cricket, soccer, and basketball before turning his attention to the track for good.
I'd say things worked out pretty alright.
Here is a quick rundown of the typical running equipment used by Usain Bolt!
| Article of Clothing | Preferred Brand |
| --- | --- |
| Running shoes | Puma Ignite XT training shoes |
| Running socks | Bolt chooses to wear no socks when running – common for sprinters |
| Running shorts | Puma compression shorts |
| Running shirts | Puma spandex tanktops |
| Running watch | Unknown, he doesn't always wear a watch |
| Other running accessories | Minimal or none |
Table of Usain Bolt's running clothing and accessories
Is Usain Bolt a professional runner?
In case it isn't crystal clear already, is Usain Bolt considered a professional runner?
Yes, Usain Bolt is a professional runner. His journey to become a professional sprinter began in 2002 at the Junior World Championships, and the rest is history.
Having got his start young, Bolt competed in the Junior World Championships. Unequivocally, he made his mark as the next big track star.
From there, Bolt would go on to compete in a multitude of professional races, including the world championships and the Olympic Games.
Usain Bolt's notable running achievements
The saying goes that actions speak louder than words. What results does Usain Bolt have to back up all the hype?
8 Olympic Gold Medals → Usain Bolt has won a total of 8 gold medals at the Olympics between the 100m dash, 200m dash, and 4x100m relay.
11 World Championships → Outside of the Olympics, Bolt has won 11 first-place finishes at various IAAF World Championship events.
World Record Holder in the 100m dash → Bolt set the 100m dash world record of 9.58 seconds at the Berlin World Athletics Championship in 2009.
World Record Holder in the 200m dash → Bolt also set the 200m dash world record at the Berlin World Athletics in 2009; he finished with a time of 19.19 seconds.
World Record Holder in the 4x100m dash → With the help of his lightning-fast teammates, Bolt set the 4x100m dash world record at 36.84 seconds at the London Olympics in 2012.
First sprinter in history to win 100m and 200m gold medals at 3 consecutive Olympics → Bolt is relentless! In 2008, 2012, and 2016, he won both the 100m and 200m gold medals at the Olympic Games.
The list could go on and on, but you know what is most impressive? His build!
Standing at a staggering height of 6'5", Usain Bolt defies the standard sprinter mold. However, that didn't inhibit him from filling up the record books.
What kind of running shoes does Usain Bolt wear?
If you want to be "Lightning Bolt" fast, you should consider picking up a pair of Usain Bolt's shoes.
Usain Bolt wears Puma running shoes for all of his training and racing. His brand loyalty ran so deep that he was able to strike up a profitable brand deal for himself.
Ever since the ripe, young age of 16, Usain Bolt has been a Puma athlete. He still is to this day, regardless of the fact that he is retired.
His athletic legacy and message hold loud and clear; Bolt inked a lifetime deal with Puma that nets him a healthy $4 million every year till the day he dies.
In his time with Puma, Bolt has rolled out his own line of sprinting spikes named the PUMA Bolt evoSPEED running spikes. Unfortunately, they are no longer in production.
However, Bolt currently endorses the Puma Ignite XT training shoes, so feel free to give those a try for an extra boost off the blocks.
What kind of running socks does Usain Bolt wear?
Socks are nearly as important as your shoes; they provide comfort and keep your foot dry when racing. What was Usain Bolt's sock of choice?
Surprisingly enough, Bolt chooses to wear no socks when running. This is actually a commonality among many sprinters because spikes often contain a sock-liner.
In the sprinting community, socks are a totally different topic of discussion when compared to long-distance running. Socks are mandatory for marathoners, but for sprinters? Optional.
Usain Bolt chooses to run with no socks. There are a couple of reasons behind this.
First, sprinters like Bolt sometimes prefer a tight fit to their spikes. By omitting socks, Bolt could get his spikes to fit exactly to his liking.
Second, many spikes have liners, similar to how running shorts have underwear liners. Socks just aren't necessary.
What kind of running shorts does Usain Bolt wear?
Comfortable running shorts are key to an enjoyable experience. What shorts does Usain Bolt wear?
Usain Bolt wears Puma compression shorts for all of his races.
Plastered all over the internet are pictures of Usain Bolt in Jamaican-themed Puma compression shorts. Why compression shorts?
Compression shorts help increase blood flow to and from the legs, helping to prevent muscle fatigue by constantly feeding the leg muscles with fresh, oxygenated blood.
In addition, compression shorts are also comfortable due to their moisture-wicking abilities and anti-chafing fit.
What kind of running shirts does Usain Bolt wear?
Often overlooked are running shirts. The shirt you choose to wear can significantly impact your running performance as it affects your ability to regulate body temperature.
What shirt does Bolt prefer to run in?
Usain Bolt always runs in a spandex Puma tanktop.
As with his other gear, Bolt always opts for the Puma brand. When racing, Bolt was always seen rocking a spandex Puma sleeveless jersey.
While Bolt never publicly explained his reasoning for running in a spandex tank top, it can be assumed that he enjoyed the lightweight fabric and cooling abilities associated with spandex.
What kind of running watch does Usain Bolt wear?
For long-distance runners, running without a watch would be considered sacrilege. What kind of running watch does Bolt use?
The running watch that Usain Bolt trains with is not public knowledge. However, Bolt received his watch model from Hublot before competing in the 2012 London Olympics.
From training pictures, we can see that Usain does indeed train with a watch from time to time. However, there aren't enough details to determine the exact watch.
A fun fact, though: Bolt was awarded his watch model with Hublot before running in the 2012 Olympic Games. Named the King Power Usain Bolt, the watch has many references to Bolt and his running achievements.
However, this is more of a luxury watch than a watch to train with (unless you want to run in a $24,000 watch).
What kind of running accessories does Usain Bolt wear?
Outside of the basic gear like shoes and clothing, what other accessories does Usain Bolt train with to enhance his performance and break world records?
Usain Bolt is somewhat of a minimalist when it comes to running accessories. It's important to note that sprinting is an entirely different process from distance running, so his gear reflects that.
While many distance runners use extra gear like heart rate monitors, hats, etc., Bolt uses none of this. As a sprinter, he aims to stay as light and agile as possible. Extra gear contradicts this.
The extent of his accessories would be his resistance training gear: things like sleds and barbells to build explosiveness that contributes to his sprinting power.
So, if you take one thing away from his gear loadout, it should be that you don't have to spend obscene amounts of money on gear to be a successful runner. Discipline and grit will do the trick.
About the Author
Latest Posts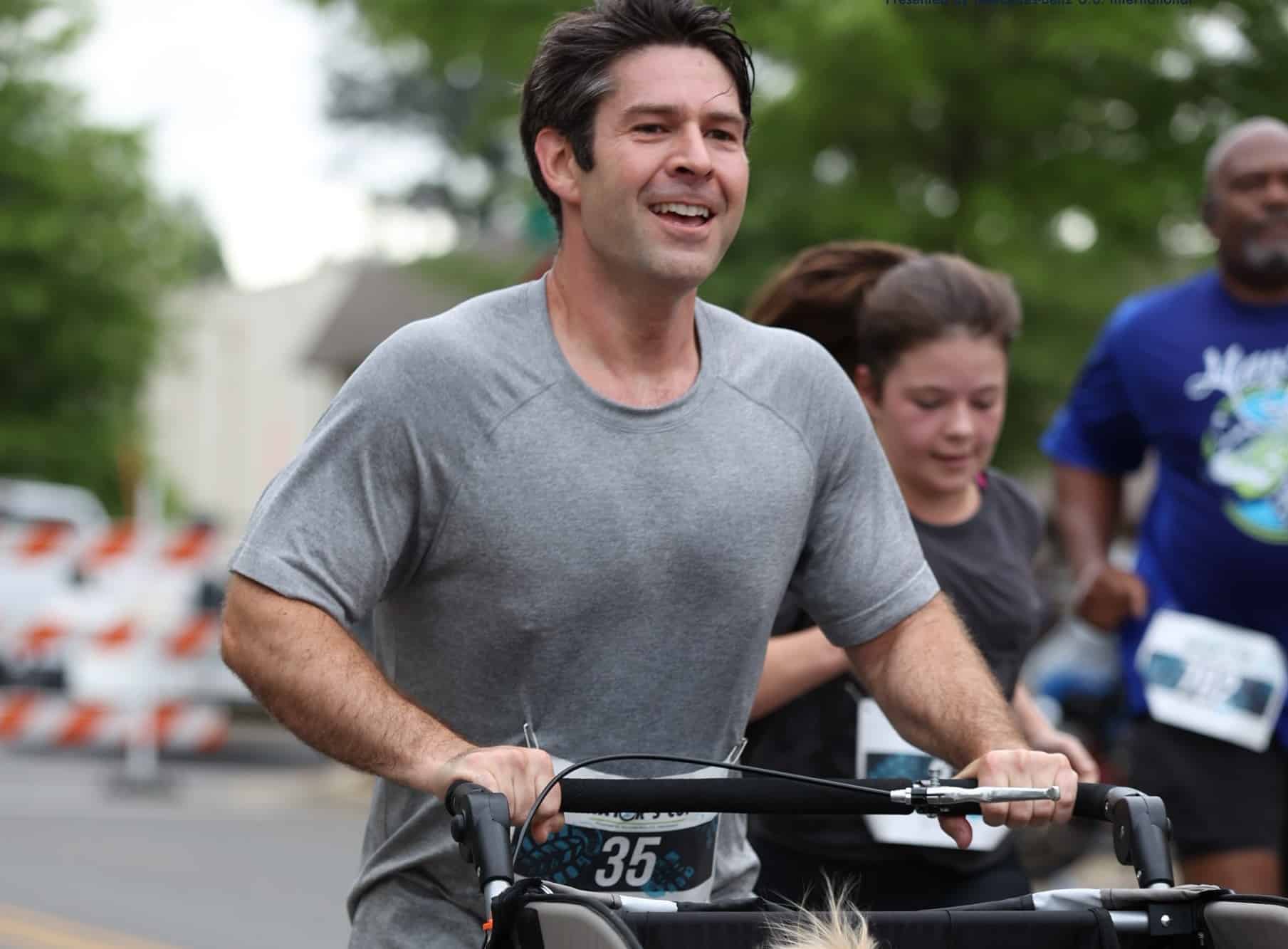 Joshua Bartlett is a professional amateur when it comes to running – basically, he takes his mediocre running ability very seriously.
As the Editor-in-Chief at Saltmarsh Running, it is his job to make sure that readers get only highly-researched and comprehensive questions to all of their running questions.