What Does Des Linden Wear for Running? (Shoes, Shorts, Watch, Etc.)
Do you follow the running career of team USA marathoner Des Linden? If so, you might be interested in learning a bit more about the equipment and gear she uses to outfit her training.
Des Linden was named the Chief Running Advisor for Brooks Running in 2022 and primarily wears gear from the brand. She currently wears the Brooks Hyperion Elite running shoes, Brooks Ghost midweight running socks, and Brooks Moment 5" running shorts. She also wears a Brooks sports bra, Brooks running jacket, and a Coros Apex 2 Pro watch.
Keep reading for more about Des Linden's career and influence, plus a full breakdown of the specific gear she wears as an endurance athlete.
Who is Des Linden?
Des Linden is an American marathoner and long-distance running athlete. She is recognized as one of the greatest American female long-distance runners ever.
Linden is best known for her achievements in the marathon event, including her historic win at the Boston Marathon in 2018. In winning this race, she became the first American woman to bring home the hardware in 33 years.
Linden represented the USA twice at the Olympic Games and in various other high-profile races, including the New York City and Chicago Marathon.
Her memoir Choosing to Run will be available in April 2023.
Article of Clothing
Preferred Brand
Running shoes
Brooks Hyperion Elite
Running socks
Brooks Ghost Midweight running socks
Running shorts
Brooks Moment 5″
Running shirts
Brooks tank tops and t-shirts
Brooks Drive Interlace or Dare Crossback sports bra
Running watch
Coros Apex 2 Pro
Other running accessories
Brooks water-resistant half-zip jacket
Table of Des Linden's running clothing and accessories
Is Des Linden a professional runner?
Like most well-known runners, Des Linden's day job is running. Her work beyond training and racing directly relates to her career as an athlete.
Linden is a professional long-distance runner, as she spends the majority of her time training and competing in events.
Additionally, she serves as an ambassador for a number of notable brands in the running world, including Brooks Running, for which she was named the company's Chief Running Advisor in 2022.
Her professional career has spanned over a decade, and her contributions to American women's female long-distance running history have been immense. 
Des Linden's notable running achievements
Des Linden's athletic record begins in college and extends all the way to the Olympics.
Des Linden's notable running achievements include:
All-American in track and cross-country, 2003 and 2004 – Achieved while she was attending Arizona State University
Chicago Marathon, 2010 – Finished second (2:26:20)
Boston Marathon, 2011 – Finished second, although her time (2:22:38) was the best ever posted by an American woman in the event
London Olympics, 2012 – Qualified to run, although she did not finish due to an injury
Pan American Games 10,000m, 2015 – Finished second
Rio de Janeiro Olympics, 2016 – Placed 7th in the Women's Marathon event
Boston Marathon, 2018 – Became the first American to win the category in 33 years.
Dorena 50K, 2021 – Became the first woman to run 50km in under 3 hours (2:59:54) in her first ultramarathon.
What kind of running shoes does Des Linden wear?
Des Linden is sponsored by Brooks Running and is rarely spotted running in anything else.
She specifically repped an all-black pair of Brooks Hyperion Elites to seal her grueling Boston Marathon victory in 2018, which was completed in extremely rainy conditions.
She wears a variety of running shoes from their product lineup, including the Brooks Hyperion Elite, Brooks Hyperion Tempo, and the Brooks Glycerin.
What kind of running socks does Des Linden wear?
Sticking with her main sponsor, Des Linden has recommended the Brooks Ghost Midweight running socks.
Despite being a marathoner, Linden does not usually opt for knee-high compression socks like many of her competitors. Instead, she chooses to wear low-cut or no-show socks.
In many of her Instagram posts, she can be seen wearing tabbed socks that stick up just above the back of her shoe, but at times she opts for even less visible low-cut socks.
While the color probably doesn't affect her race, Linden has gone on the record saying that she wears black socks for races because they're "business attire."
What kind of running shorts does Des Linden wear?
Here again, Des Linden chooses to go with Brooks.
Linden can be seen wearing a number of Brooks running shorts and compression shorts. She often wears longer shorts (5"-7") for extra coverage.
She can be seen on the Brooks website wearing a pair of Moment 5" shorts.
What kind of running shirts does Des Linden wear?
While she doesn't seem to prefer what kind of top she wears, Des Linden is rarely seen without the Brooks Running logo.
Linden is wearing various kinds of upper-body apparel on her social media, including Brooks running tank-tops, t-shirts, and sports bras. She also wears jackets and windbreakers for colder weather training.
Linden has joked on her Instagram about having a favorite Brooks Running sports bra, apparent by the distinctive tan lines! Judging by the straps, she seems to be referencing the now-discontinued Dare Crossback Run. If you're looking for something similar, check out either the Dare Crossback Run Bra 2.0 or the Drive Interlace Run Bra.
One particular Brooks jacket that Linden seems to be fond of is her blue All Altitude Women's Weatherproof Running Jacket, which she can be seen wearing in a number of Instagram photos.
What kind of running accessories does Des Linden wear?
Des Linden has previously been seen wearing a Garmin Forerunner 55 GPS watch in many of her social media posts to track her runs and monitor her training progress, however, it looks like she's recently upgraded to a Coros Apex 2 Pro.
She also wore a Brooks water-resistant half-zip jacket to protect herself from the rain during her sensational Boston Marathon victory in 2018. 
About the Author
Latest Posts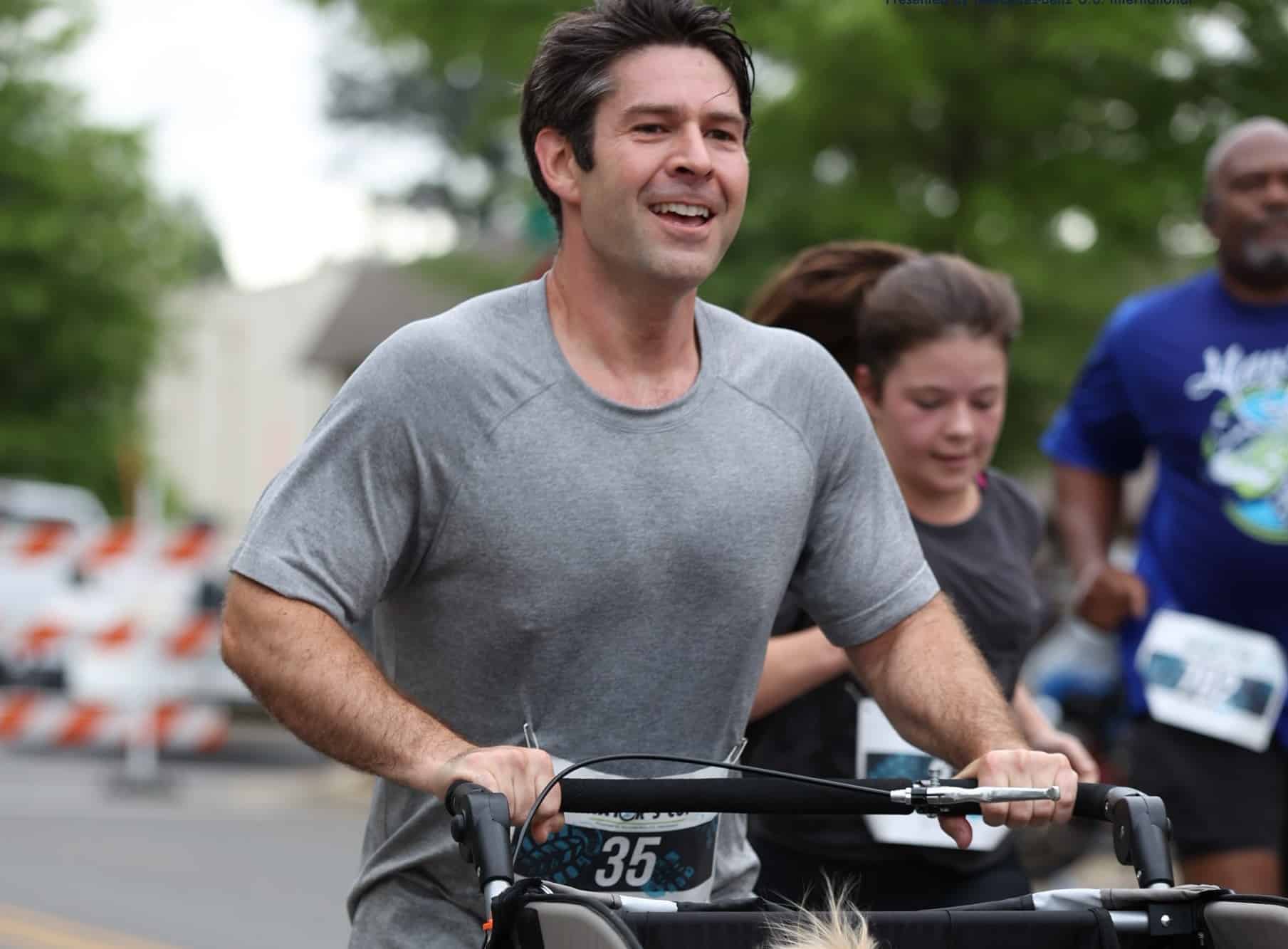 Joshua Bartlett is a professional amateur when it comes to running – basically, he takes his mediocre running ability very seriously.
As the Editor-in-Chief at Saltmarsh Running, it is his job to make sure that readers get only highly-researched and comprehensive questions to all of their running questions.