What Does Courtney Dauwalter Wear for Running? (Shoes, Shorts, Watch)
Ultra-marathoners are like regular runners – just much more intense. If your body can handle running 100 miles at a time, there's no doubt that you expect your gear to be just as tough. So what does Courtney Dauwalter wear for running?
Courtney Dauwalter primarily wears Salomon products due to her partnership with the brand. She runs in Salomon S/Lab Ultra 3 running shoes, baggy Salomon men's running shorts and shirt, and a Salomon Adv Skin 5 hydration set for ultra-marathon running events. She also wears Injinji performance toe socks, a Suunto 9 running watch and SunGod shades.
Take a look below to find everything regarding Courtney Dauwalter's running apparel so you can get outfitted to tackle your own endurance challenges!
Who is Courtney Dauwalter?
If you're a fan of extreme running, you probably already know who Courtney Dauwalter is. Arguably one of the best endurance athletes in the world right now – male or female – she's often called the "Queen of Running."
Courtney Dauwalter is an extreme ultra-marathoner and trail runner. She holds the world record for the longest distance run by a female.
She has won a number of significant races such as the Behind the Rocks Ultra in 2019, the Ultra Trail Cape Town in 2021, The Hardrock 100 Endurance Run in 2022, and the Bandera 100 Km in 2023, among many other races.
She was featured on episode #1027 of The Joe Rogan Experience in 2017 and has appeared on many other famous podcasts and talk shows since including The Rich Roll Podcast and The Daily Stoic Podcast with Ryan Holiday.
Dauwalter signed an apparel deal with Salomon, a trail running shoe company, in 2020 due to her rising fame and visibility in the public eye.
Is Courtney Dauwalter a professional runner?
Courtney Dauwalter earned her Master's degree in Education in 2010 and began teaching middle and high school. Does she still have a day job?
Courtney Dauwalter is a professional runner, having turned pro in 2017.
She makes most of her income through marketing deals, prize money, and other public appearances. She is heavily sponsored by Salomon, and has partnered with both them and SunGod to produce co-branded products.
Courtney Dauwalter's notable running achievements
Courtney has a long list of notable running achievements, some of which have already been mentioned.
Courtney Dauwalter is one of the world's top endurance athletes and has dominated virtually every race she's competed in for the last ten years. Here are a few of her most impressive achievements to date:
Big Dog Ultra (2020) – Dauwalter ran 283.3 miles over a 4.167-mile loop. She completed 68 laps over 56 hours 52 minutes and 29 seconds. Due to this race, she holds the world record for the longest recorded distance ever run by a female athlete.
Collegiate Loop Trail (2022) – Dauwalter completed this 160-mile course in 40 hours and 14 minutes, making her not only the winner that day, but the record holder for the fastest known time for that race.
Ultra-Trail du Mont-Blanc (2021) – Daulwalter came in first in both 2019 and 2021, setting a women's course record in 2021 with a 22 hour 30 minute and 54 second time (nearly 2 hours better than she posted in 2019).
Moab 240 (2017) – The Moab 240 is a 238-mile endurance competition that began in 2017 when Courtney Dauwalter posted the best time by around ten hours. In the years since her time has only been beaten three times.
Additionally, Dauwalter has finished first in the last 11 public races she's participated in and counting. She has won races all over the world, dominating a list that includes prominent ultra-marathon and endurance events such as The Western States 100, Big's Backyard Ultra (twice), and the Running Up For Air Grandeur Peak Challenge.
What kind of running shoes does Courtney Dauwalter wear?
Courtney Dauwalter is one of the best endurance runners in the world and actively seeks out the most grueling races her sport has to offer. You know her shoes must be good to keep up!
Dauwalter wears Salomon shoes for all her runs. She signed an apparel deal with Salomon in 2020 after turning pro and has publicly endorsed the Ultra-Glide series by Salomon.
She has frequently commented publicly on the durability and performance-enhancing qualities of the shoe, and she can be seen wearing Salomon's in race photos as well as personal Instagram posts.
The Salomon Ultra-Glide S/Lab Ultra 3s, helped her win the Ultra-Trail du Mont Blanc, which she won in record time and finished in the top 10 overall.
What kind of running socks does Courtney Dauwalter wear?
Do you remember the late 90s when it seemed like every girl had a pair of toe socks? It seems like Dauwalter found a practical use for the whimsical accessory.
Courtney Dauwalter wears Injinji's performance toe socks for her runs. Based on her social media posts, it looks like she prefers the crew height.
While toe socks may seem at first like a throwback or an eccentricity, they're actually indispensable for someone who runs as much as Dauwalter. The main reason for the individual toe divisions is to prevent blisters from developing on the inside part of the toe.
Dauwalter wears the Injinji trail toe socks in all of her races and swears by their comfort and utility.
What kind of running shorts does Courtney Dauwalter wear?
It's no secret that most runners prefer their shorts, well, short in order to maximize their stride. In that case, it might surprise you that Dauwalter's known for running in long, baggy shorts.
Dauwalter is known for wearing long, baggy running shorts, which she says she wears for comfort. Pictures and race footage show these are, of course Salomon Pulse – men's running shorts.
Salomon has discontinued this exact style of shorts, but Dauwalter either continues to wear old pairs or has custom shorts designed for her by Salomon per her apparel deal. 
If you're looking to emulate Dauwalter's style, any pair of lightweight material, baggy outdoor shorts will do. Dauwalter's shorts often fall just above the knee and are made of water-resistant, lightweight material.
It's not Dauwalter's style, but have you ever wondered my so many runners choose short shorts. I've got the answer here!
What kind of running shirts does Courtney Dauwalter wear?
Given that she enters races that have her running over tough terrain for literal days at a time, it's unsurprising that Courtney Dauwalter values practicality and function above all else when it comes to her outfits.
Like her shorts, Dauwalter is known to wear baggy men's running shirts while competing, usually from her sponsor, Salomon.
She can often be seen wearing something similar to the Salomon Outline, a men's dri-fit T-shirt in many photos of events and races.
While she doesn't specify the exact style she prefers, Courtney has said on a number of occasions that she chooses comfort over style when running in ultra-marathons and extreme endurance events.
What kind of running watch does Courtney Dauwalter wear?
While in many ways Courtney Dauwalter looks like the girl next door out for a run, her gear marks her for the competitive professional she is.
Courtney Dauwalter wears a Suunto 9 watch to help her track her training and monitor her vitals during runs. This watch has GPS tracking capabilities and up to a 120-hour battery life, which allows her to track even the longest of her ultra-marathon races.
The $700 watch is made with 100% renewable energy and is perfect for extremely long distances.
What kind of running accessories does Courtney Dauwalter wear?
Because of the intense nature of her races, Dauwalter carries more gear than the average runner.
Depending on the race, Courtney Dauwalter is likely to carry a Salomon hydration pack, emergency gear, and even snacks to keep her going. She will probably also have a pair of SunGod sunglasses as she has recently partnered with them.
For the Moab 240, she used the Salomon Adv Skin 5 Set. Due to the nature of her race, she will often have an emergency blanket, a headlamp, and various forms of nutrition in her pack.
In bad weather, she also wears a S/Lab Light rain jacket, which Salomon has discontinued, and the similarly discontinued Salomon Bonatti Pro jacket as a windbreaker. 
About the Author
Latest Posts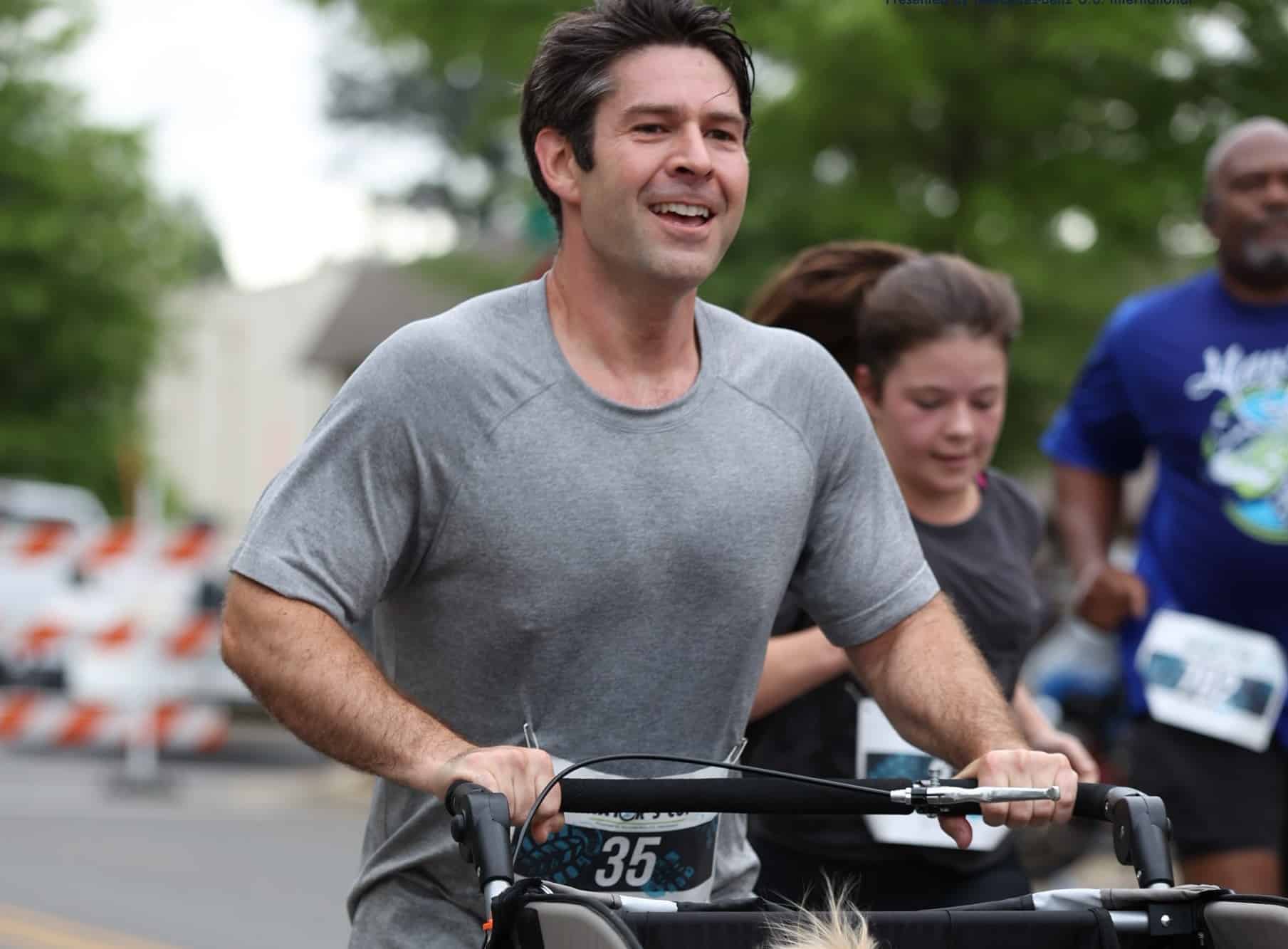 Joshua Bartlett is a professional amateur when it comes to running – basically, he takes his mediocre running ability very seriously.
As the Editor-in-Chief at Saltmarsh Running, it is his job to make sure that readers get only highly-researched and comprehensive questions to all of their running questions.