What Does Joe Rogan Wear for Running? (Shoes, Shorts, Watch, Etc.)
Joe Rogan started out as a comedian and support sitcom actor, but really started to gain popularity when he became the host of the personal challenge reality competition show Fear Factor. Now he's the host of the Joe Rogan Experience, one of the most popular podcasts ever. He's more known for talking about mixed martial arts and telling jokes, but he has recently expressed a growing interest in running. Since he's able to get advice from some of the greatest athletes in the world, it's worth asking yourself, "what does Joe Rogan wear for running?"
While running, Joe Rogan usually wears Saloman Speedcross 3 Trail Runners. Most of his running clothes are from Onnit, a health and fitness brand co-owned by Rogan, or merch supporting his friends' brands. Running is not Rogan's primary sport, but he uses a variety of sports watches and other accessories to track his performance.
Keep reading to find the internet's deepest dive on Joe Rogan's running habit, and to get an in-depth guide to outfitting your runs like Joe.
Who is Joe Rogan?
Joe Rogan is a comedian, actor, podcaster, MMA commentator, and mega-influencer who currently resides in Austin, Texas.
Rogan landed a recurring gig on the TV show Newsradio in the mid-90s and later became the host of the reality TV show Fear Factor.
In 2022, Joe Rogan signed over $200 million deal to move his podcast, The Joe Rogan Experience, to Spotify. Guests appearing on the show have frequently gone on to massively increase their own followings, making Rogan a sort of the king-maker of influencers.
He is one of the most famous people in the United States and around the world right now, and his podcast draws guests such as Elon Musk, Robert Downey Jr., Neil Degrasse-Tyson, Mike Tyson, and Bill Burr.
Is Joe Rogan a professional runner?
Joe Rogan is a lifelong athlete, but has never been a professional one.
Joe Rogan is not a professional runner. He is best known as the host of the podcast The Joe Rogan Experience. Getting his start by performing in comedy clubs, Joe Rogan has crafted a unique career as a professional comedian, podcast host, and sports commentator.
As a black belt in both Taekwondo and Brazilian Jiu-Jitsu, Rogan became a familiar face in the mixed martial arts community when UFC commissioner Dana White asked him to appear as a commentator for the fledgling sports league in 2002.
Since its inception in 2009, the podcast has gained a cult following of martial arts enthusiasts, curiosity seekers, and countless other interested parties on the way to making it the most listened-to podcast in the world. The podcast is the premiere podcast on both Spotify and Apple Podcasts with over 11 million listeners per episode.
While Rogan is not a professional athlete, he is widely known to have a keen interest in fitness and training. He has stated on his show that he trains nearly every day, and has recently incorporated running twice a week since participating in the Cameron Hanes Keep Hammering 5k and struggling to finish.
Joe Rogan's notable running achievements
Rogan is not an avid runner and has only recently started incorporating running into his weekly fitness regimen.
It appears the only public running event Rogan has competed in during recent years was the Cam Hanes 'Keep Hammering' 5k event in Las Vegas, Nevada in 2017. Rogan publicly lamented how out of shape he was during the race, and this experience has led him to start running more regularly.
He was able to finish the race, but he did not post his times.
What kind of running shoes does Joe Rogan wear?
Because of his podcast, Joe Rogan shares more about his training regimen, gear, and any changes to these than most athletes, even fitness influencers. In fact, he discussed his favorite running shoes with none other than popular ultra-marathoner Courtney Dauwalter in Episode #1027.
Curious what Courtner Dauwalter runs in? We've got the answer in this article!
In the episode, the mega-influencer claims to wear Salomon Speedcross 3 Trail Runners, a choice which is confirmed by various Instagram posts that he has made featuring the shoes. Of course, since this episode aired in 2017, it is reasonable to believe that Rogan has likely moved on to the newer iterations of Salomon's Speedcross series.
The Saloman Speedcross is a popular trail running shoe because it is a comfortable shoe with larger than-average lugs that provide better grip on soft trails. Later iterations of this shoe, such as the Speedcross 5 or the Speedcross 6 are likely also popular with Rogan.
Rogan has also shared pictures on his Instagram account of himself wearing Vibram 5 finger cross training shoes while running. While these are not his primary choice of running shoes, he has spoken of the benefits of wearing these toe shoes for running, while cautioning new users to start slowly to avoid injury.
He's also been a vocal advocate of his friends' products, including Cameron Hanes' collaboration with Under Armour.
What kind of running socks does Joe Rogan wear?
Joe Rogan is friends with some of the greatest high-endurance athletes in the world, so it stands to reason they've given him tips on the best of everything when it comes to running. Does that include socks?
There doesn't appear to be any specific brand of socks that Joe Rogan prefers while running. He has been photographed wearing various types of ankle-length or no-show socks. However, he has also joked about wearing "Dad Socks," which he claimed were not going away any time soon.
Joe Rogan has only recently gotten into running as an athletic pursuit, so it makes sense that he's trying out his options.
What kind of running shorts does Joe Rogan wear?
Joe doesn't explicitly state what gear he wears for long-distance running, but he does have an apparel deal with Onnit, and can be seen wearing their shorts while training in multiple photographs and videos shared on his personal social media pages.
Unfortunately, Onnit no longer offers running shorts. Looks like he'll be looking for some new shorts soon!
We wouldn't be surprised if he ends up trying out some from Origin. His friend Cam Hanes has worn this brand and is well known for its high-quality Jiu-Jitsu gis.
What kind of running shirts does Joe Rogan wear?
One of the most important choices a runner can make when getting ready for a run is his shirt. While many runners prefer to run shirtless, that doesn't seem to be Rogan's style.
Rogan is often spotted wearing Onnit brand t-shirts while training. Again, he hasn't precisely stated what type of shirt he wears specifically for running, but it's probably safe to assume his running apparel doesn't differ all that much from his gym training apparel.
With that being said, the Onnit Type Bamboo T-shirt is a likely candidate for the type of shirt Rogan would most likely be seen in while participating in long-distance running.
What kind of running watch does Joe Rogan wear?
Joe Rogan usually wears a watch when he appears on the Joe Rogan Experience podcast.
While there is limited data on watches he might or might not use during training, it seems clear that Joe has quite an extensive watch collection based on the variety and cost of the watches he wears on the podcast. Based on the various styles he has been seen with, we can speculate which watches he might use for running. The following watches are sports watches that Joe has been seen wearing on the show and in other venues:
Panerai Submersible PAM00024 – This is a dive watch that Joe has worn at various UFC events. While this watch is not designed specifically for running, it could be used for training, as it is water-resistant and comes with a comfortable band. Of course, based on its $5,000 – $6,000 price tag, you may want to keep it in the box!
Traser H3 Red Combat – This sleek $600 sports watch is designed for active wear and would serve runners well.
Casio G-Shock Mudmaster GG-1000-1A3 – Joe has also been photographed wearing this $240 dollar watch. It is designed for rough environments, includes a built-in compass, and thermometer, and displays the time in digital and analog formats.
Though none of these are running-specific watches, we can speculate that Joe will wear one while training and running.
What kind of running accessories does Joe Rogan wear?
Most runners find something that works for them and stay with it, but – as we've discussed, Joe Rogan isn't your typical runner.
Joe Rogan is famous for promoting brands and accessories that he personally uses and believes in. He is one of the preeminent affiliate marketers in the world. Due to this, he regularly tries out and promotes different equipment.
I've found a few running accessories he's tested and spoken favorably about.
Rogan and his compatriots are known to annually participate in an event called 'Sober October' in which participants refrain from drinking alcohol and engage in more physical activity. During this month in 2018, Joe stated that he used a Myzone MZ-3 Activity Belt to monitor his fitness. It's unclear whether he still uses this accessory, but he gave it positive reviews during this period.
Another running accessory Rogan has been known to use is the Octane Fitness ZR8 Zero Runner. It is a stationary cardio machine that allows you to simulate the natural movements of walking or running without creating the impact that traditional running leaves on the muscles and joints.
The podcaster has also shared images of his Assault Fitness AirRunner on his Instagram account. This treadmill is a motorless machine that uses gravity and the force of a runner's stride to propel the belt forward.
About the Author
Latest Posts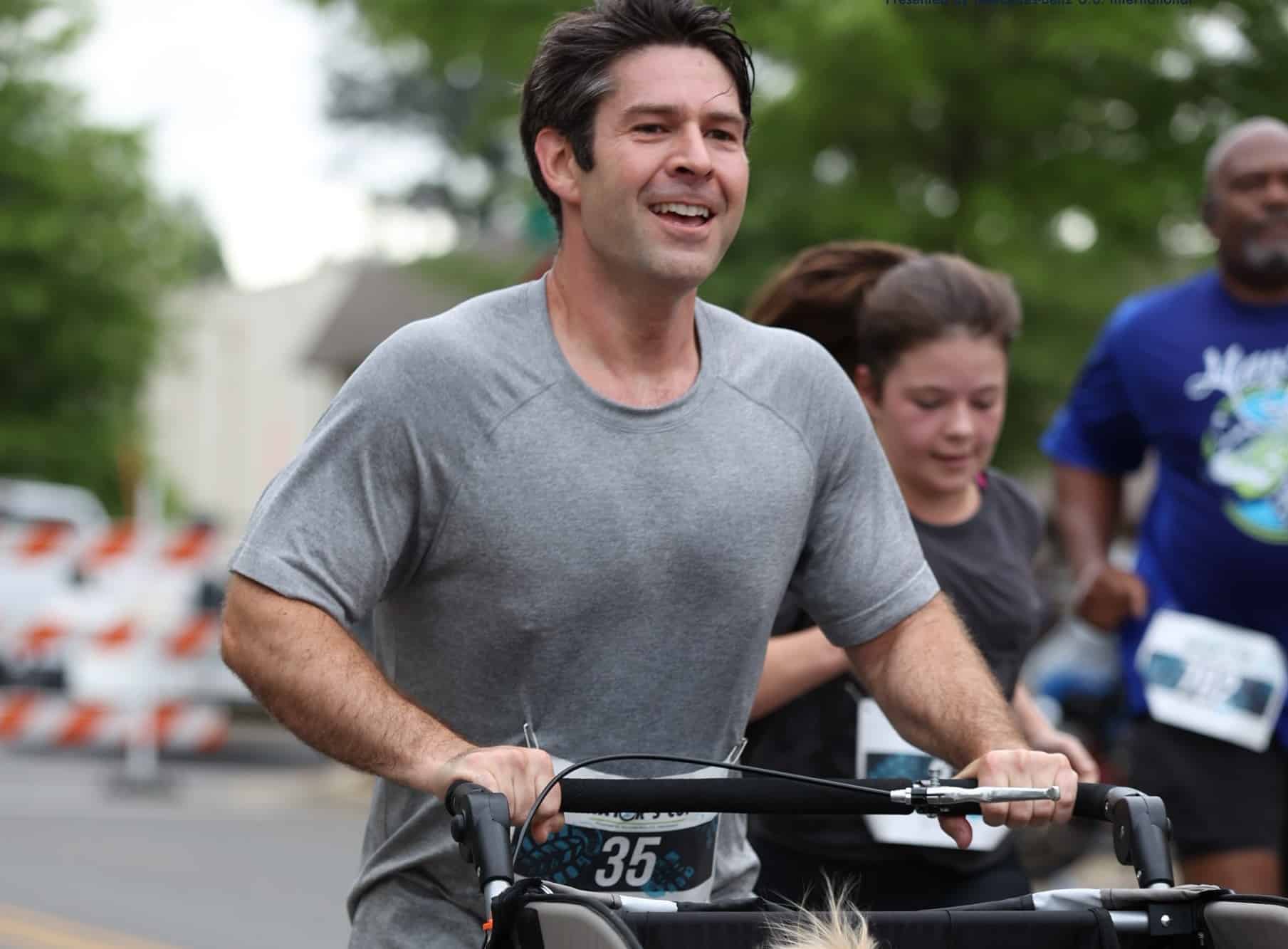 Joshua Bartlett is a professional amateur when it comes to running – basically, he takes his mediocre running ability very seriously.
As the Editor-in-Chief at Saltmarsh Running, it is his job to make sure that readers get only highly-researched and comprehensive questions to all of their running questions.