What Does Nick Bare Wear for Running? (Shoes, Shorts, Watch, Etc.)
Do you follow the running and fitness career of Nick Bare on his popular social media sites? If so, you might be interested in learning a bit more about the equipment and gear Bare uses to outfit his extreme training.
Nick Bare wears several types of running shoes, including the Saucony Tempus. His favorite long-distance running socks are from Feetures Elite. His preferred running shorts are the Lululemon Fast & Free 3-inch shorts, and he typically either runs shirtless or in BPN-branded clothing. He also wears a Garmin Fenix 5 sports watch and Roka sunglasses.
Keep reading for the full breakdown of Nick Bare's career and influence, and get specific on the types of apparel he wears to complete his training.
Who is Nick Bare?
Nick Bare is the owner of a health business and an influencer in the fitness space.
Nick Bare is a former Army Ranger, turned entrepreneur, fitness guru, and endurance athlete. He is best known for his popular social media sites, including his YouTube channel and Instagram accounts, which boast about 800k subscribers each.
He is the owner of Bare Performance Nutrition (BPN), a popular nutrition and supplement brand that he started as a side hustle in his apartment. Bare also competes in ultra-endurance events and consistently runs dozens of miles per week in preparation for various fitness and running events.
As a serious athlete and businessman, Bare knows exactly what he's looking for in sports apparel. So what does he use?
Article of Clothing
Preferred Brand
Running shoes
Saucony – he wears both the Tempus and Endorphin Speed styles frequently
Running socks
Feetures Elite running shocks
Running shorts
Lululemon 3-inch Fast & Free running shorts
Running shirts
A self-branded or BNP shirt, or, more likely, no shirt at all
Running watch
Garmin Fenix 5 Plus
Other running accessories
BNP running endurance hat
Roka sunglasses
Table of Nick Bare's running clothing and accessories
Is Nick Bare a professional runner?
Nick Bare is not a professional runner, he is a popular fitness influencer and owner of a nutrition and supplement company. Although he doesn't run as a pro, I think most professional runners would agree that he has taken ultra running events seriously and put in a lot of effort.
Although he only runs as an amateur, he has qualified for and participated in the Boston Marathon, among other events.
Nick Bare's notable running achievements
While he's not a professional runner, Nick Bare is an accomplished one.
Nick Bare has competed in a number of races and long-distance running events, and triathlons. Notable achievements include running a marathon in less than 2 hours and 50 minutes, and completing a 100-mile race.
In 2019, he completed the Iron Man triathlon in 11:28:08 – that's about an hour faster than the average time.
What kind of running shoes does Nick Bare wear?
It's hard to argue that one of the most important choices you make as a runner is your go-to shoes.
Nick Bare has been photographed wearing Nike Zoom Fly 5 running shoes on a number of occasions, though he's been known to wear other brands as well.
Most recently, Saucony seems to be his brand of choice for long runs.
According to photos on his popular Instagram account, he also appears to own a pair of Saucony Tempus running shoes and can be seen wearing them in a number of running videos.
The Tempus offer stability and support without being over-designed.
Bare also previously shared a video in which he discussed owning and using a pair of Saucony Endorphin Speed running shoes and can be seen sporting them in a number of social media posts.
Similar to the Tempus, the Saucony Endorphin Speed is known for its versatility, although it lacks the signature stability of the newer model.
If you're looking for your own pair of Sauconys, they offer a wide selection of styles and prices.
What kind of running socks does Nick Bare wear?
While the importance of your running shoes can't be overstated when discussing running gear, you shouldn't overlook your socks.
I'm sure most people don't have strong opinions about socks, at least not beyond length, and maybe if you hate stitching across the toe. But most of us don't put 100 miles on our socks in a single run, either. Since he does, maybe it's not surprising that Nike Bare has strong opinions about his running socks.
Nick Bare claims his favorite type of running socks to wear during long-distance running events are Feetures Elite running socks. He can be seen wearing these socks in a number of photos and training videos on his popular social media sites.
Feetures Elite offers a wide variety of men's running socks. After reviewing his social media channels, it's clear that Bare prefers brightly colored socks, and he seems to gravitate toward the Mini Crew height for his runs.
What kind of running shorts does Nick Bare wear?
Like many runners, Nick prefers his shorts to be quite short. This allows him to run unimpeded in the high heat. If you've watched any of his posted videos, you'll see that he runs with a long, quick stride. He certainly doesn't want his shorts getting in the way!
The preferred running shorts brand for endurance athlete Nick Bare is Lululemon. He particularly cites his love for the Lululemon 3-inch Fast & Free running shorts, explaining the internal liners and pockets are some of his favorite features.
The Lululemon Short Fast & Free running shorts are a lightweight short that is both sweat-wicking and quick-drying – plus, they have added Lycra® for stretch. Bare also appreciates the internal liner (practically a must for serious runners in the shortest shorts!) and pockets.
He also claims to use a running shorts brand known as Tracksmith. He comments on his love for their retro style and mesh, breathable material. He also wears the 3-inch Tracksmith shorts, explaining the fact that he prefers short, unrestrictive, light running gear. 
Nick Bare is definitely the type of runner who wants as little getting between him and his run as possible.
What kind of running shirts does Nick Bare wear?
While arguably one of the less important aspects of your running gear, let's not forget the shirt! Most running shirts for long-distance runs are sweat-wicking and quick-drying with a snug fit and maybe even some sun protection built in. As Nick Bare is an accomplished endurance athlete, what kind of shirt does he prefer?
None! Like many other extreme athletes before him, Nick prefers to do his most intense runs shirtless. This allows him to bypass most chafing concerns and not worry about whether the material may cause him to overheat. Plus, he gets to show off that carefully crafted six-pack!
Nick Bare tends to run shirtless when acceptable, though he's often seen wearing a variety of t-shirts and tank tops on his runs as well, especially during races.
In many videos, he wears t-shirts sporting his business' brand and logo, but it's clear by perusing Bare's social media that he prefers running shirtless to running in a t-shirt.
What kind of running watch does Nick Bare wear?
While not necessarily a requirement for running apparel, a good sports watch is invaluable to the serious runner. A GPS-enabled running watch will keep track of your distance, pace, and heart rate, allowing you to track and compare your stats.
Nick Bare often features his Garmin Fenix 5 Plus watch in his videos and Instagram posts. He claims it is his favorite piece of running equipment or gear. He also wore this product's previous iterations and used Garmin products to complete the Ironman triathlon. It is likely that he occasionally updates his watch to the newest model.
He also talks about utilizing the run tracking features, including distance, pace, and heart rate.
Garmin is a trusted brand of running watches and is used by runners of every level and ability. While the Fenix is a top-of-the-line watch, the brand offers a wide variety of options to suit most budgets and needs.
What kind of running accessories does Nick Bare wear?
In addition to the basics of his wardrobe – shoes, socks, shorts, shirts – and his easily recognizable watch, what other gear does Nick Bare use on his runs?
Nick Bare is regularly seen in a BPN running endurance hat or Roka sunglasses.
Bare's running hat is so recognizable that he posted a shot of himself on his wedding day, joking about how rare it is to see him both wearing a shirt and without a hat!
When needed, Bare will also wear a pair of sunglasses while running. He seems to gravitate toward Roka sunglasses, having frequently worn the Matador style. He even did a collaboration with the brand!
About the Author
Latest Posts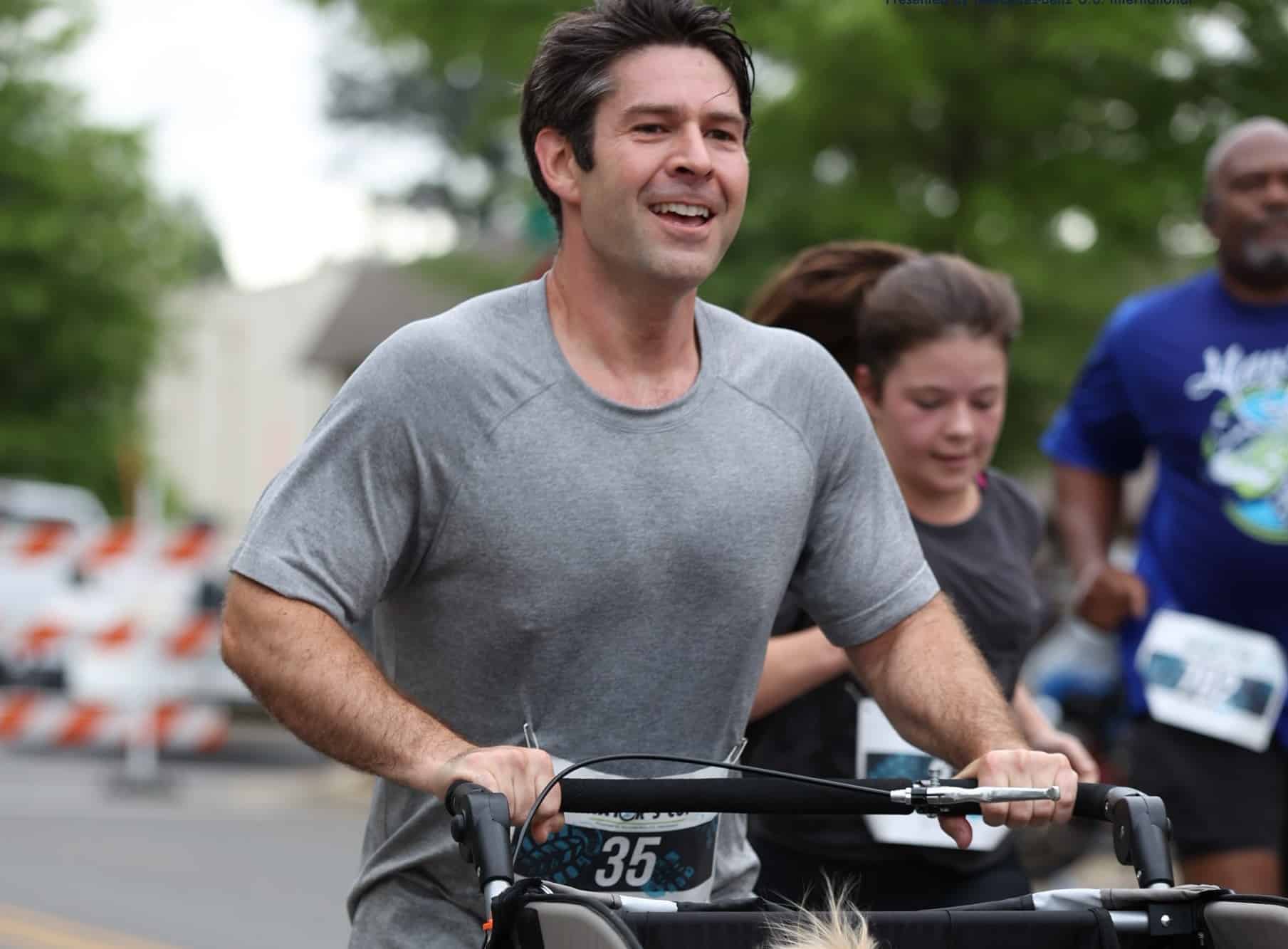 Joshua Bartlett is a professional amateur when it comes to running – basically, he takes his mediocre running ability very seriously.
As the Editor-in-Chief at Saltmarsh Running, it is his job to make sure that readers get only highly-researched and comprehensive questions to all of their running questions.